The ongoing Covid-19 pandemic forces museums to keep their gates shut, but German public broadcaster RBB brings their exhibitions to people at home, using the VRdirect platform to create an interactive museum experience in less than two days. In this blog, we'll discuss how VR can help museums and event organisers to bring their content to their audience in times of crisis.
Under normal circumstances, they are a safe bet for your vacation plans: museums. But the circumstances currently are far from normal. The Covid-19 pandemic causes businesses, storefronts and governmental institutions alike to close doors without even a vague notion on when this might change. The installed safety measures don't stop at museums, exhibitions or any other events that involve large groups of people.
Which begs the question: is there a viable alternative? Surely, there must be some kind of solution that lets museums or event organisers virtually reproduce the premises, showrooms and exhibition pieces, so people can look at them from the comfort of their armchair? The simple answer is: Yes. With Virtual Reality, you can do just that.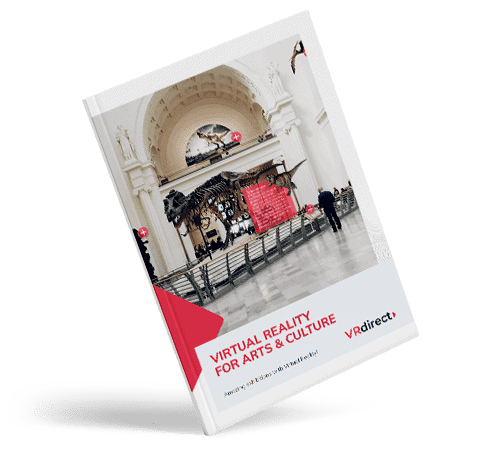 Read our Whitepaper and learn how to use Virtual Reality for cultural institutions.
Virtual Reality: A game changer for museums
With Virtual Reality, it is entirely possible to recreate an existing showroom, add in certain objects and control elements the viewer can interact with and place them in the middle of said showroom, where they can explore freely. Provide the viewer with an immersive device like a VR headset and they might not even notice a big difference from the real thing!
Museums profit from a whole range of possibilities to enhance Virtual Reality tours through their premises with interactive exhibition pieces, text boxes for additional information or audio-visual cues to enrich viewers' experiences.
A recent project showcases perfectly, how well VR can work in the context of museums: Commissioned by German public broadcaster RBB, our partner agency IntoVR created Virtual Reality tours through the Deutsches Technikmuseum's special exhibit "Architectura Navalis". Using the VRdirect platform, they were able to launch the VR experience within less than two days through various channels, including RBB's website, Facebook profile and their YouTube Channel.
For museums, Virtual Reality is a great opportunity to keep creating unique experiences for viewers in times of a pandemic lockdown and, of course, even beyond that. There are a couple of benefits of utilizing VR for museums:
It's easy to produceThe whole idea of having to produce VR-ready content, develop a Virtual Reality app and rolling it out to different devices can be a bit intimidating. But it's not as complicated as you might think. With the right software, creating captivating VR experiences can be done with no Software Development skills at all. All you need is to produce high-quality 360° images or videos and you'll be good to go in no time.
The production process can be really fastYou might suspect that the whole process requires a lot of preliminary work, but it is actually possible to create great VR experiences within a short period of time. Like mentioned above, the RBB project took less than two days to complete, including launch.
There is no need for a specific setupWith VR, you are able to digitally reproduce your showrooms and exhibition halls as is. You don't need sophisticated preparations, costly equipment or extensive know-how to get started right away. That means it is basically suited for everyone with the need to quickly adapt to the current situation.


VRdirect Studio: Enabling museums to create captivating VR experiences
Especially now, where the escalation speed of the current situation has overwhelmed large parts of society, institutions and companies are looking for solutions that can be developed and implemented quickly.
Like a lot of companies, museums and event organisers have their staff reduced to skeleton crews with limited resources – which means, reacting to current regulations and safety measures has to be done as quickly and efficiently as possible. Luckily, for Virtual Reality, there are tools that are easy-to-use and require only little effort to create compelling VR experiences and allow museums to publish them via a multitude of devices and platforms.
VRdirect Studio has proven a powerful tool to elevate exhibitions in museums or other venues to a new level. In the past, in an art initiative sponsored by Deutsche Telekom, the platform was used by three museums to virtually 'teleport' visitors to other participating museums:
VR: Not only for museums
But it's not only museums that can profit from offering viewers a digital deep dive into their exhibitions. Basically everyone can create compelling Virtual Reality experiences without any programming effort. Stores can use the technology to present their products during current lockdown regulations. Art galleries may find spectators for their exhibitions that way. Or how about inviting your audience to a concert? There are tons of possible use cases for Virtual Reality, provided you have the right tools to work with. Read our Success Story how to use Virtual Reality for cultural use cases.
VRdirect Studio provides you with everything you need to turn your 360° content into interactive apps and make them available to your audience via VR glasses, a smartphone or a web browser.
If you're interested in learning how to integrate VR into your own business operations, take a look at our VR solutions.
If you would like to create your custom virtual tour, don't hesitate to schedule an initial consultation with one of our experts.