There are growing signs that 2023 will be the year of Mixed Reality for Apple. According to Bloomberg reporter Mark Gurman, the company is about to usher in the new era of "Apple Reality".
The new Apple era is preceded by a long development period: The company has been working on its VR headset for more than seven years. The Technology Development Group, the development unit responsible for the headset, is said to have grown to more than 1,000 experts.
Apple originally planned to launch the VR headset in 2019 but postponed the date several times due to technical challenges and strategic considerations.
Apple Reality Pro unveiled in June?
Meanwhile, Apple seems to have solved many problems: According to Gurman, Apple will unveil the VR headset to the public on June 9th at the start of the Worldwide Developers Conference (WWDC) 2023. The company cleared an important hurdle during an internal demo earlier this year, where key executives were able to try out the VR headset.
According to Apple leaker Evan Blass, an unnamed Apple tester was reportedly blown away at a recent demonstration, despite initial concerns: "I was so skeptical; now I'm blown away in a 'take my money' kind of way".
All signs point to Apple making final preparations for mass production. According to Taiwan's Economic Daily News, Apple is in the "final sprint" and finalizing its manufacturing processes to bring the VR headset to market in 2023.
Apple's new product category will be called "Apple Reality Pro" based on trademark applications. Accordingly, Apple is likely to launch two sets of VR headsets in succession, with "Apple Reality Pro" and "Apple Reality One" targeting different audiences.
Considering the presentation at WWDC, it is expected that Apple will offer the "Apple Reality Pro" as a developer kit to developers. This is also indicated by the price: According to current estimates, the VR headset will cost between $2,000 and $3,000.
Apple's strategy is likely to first provide suitable VR applications and build an XR ecosystem. The potential applications of VR headsets for businesses are diverse and include 3D visualization, education, and spatial design in product design and architecture.
For home users, the second generation of Apples headset could be more affordable. Apple Reality One should also include mature apps by market launch.
Apple Reality as a holistic solution
Apple has proven in the past that they can successfully establish new product categories and expand them to broader application areas.
For example, the Apple Watch, launched in 2015 and initially marketed as a fashion item, has become the most successful smartwatch on the market, despite initial difficulties as a versatile fitness and health device.
Apple may be following a similar strategy with the Reality Pro. The VR headset could be an all-in-one solution for gaming, fitness, and work. Apple has been working with studios on high-quality XR games for some time. In addition, the VR headset should be able to run most iPad apps, indicating a focus on productivity.
This diversified strategy, which has already proven successful with the Apple Watch, demonstrates Apple's ability to continually refine products and adapt to customer needs.
The VR headset is to be controlled via eye and hand tracking, making additional controllers unnecessary. It should also be possible to connect keyboards to the Reality Pro and use immersive office applications across devices.
Battery solution for uninterrupted VR experience
The technical basis for this is provided by Apple Reality Pro. The VR headset is reportedly equipped with two high-resolution micro-OLED displays from Sony that offer 4K resolution per eye.
Small motors inside the headset are said to automatically adjust the lenses to the user's eye relief to optimize a 120-degree field of view. Two processors power the Apple Reality Pro: Apple's M2 processor is reportedly at the heart of VR headset. Another chip enables passthrough, the digital reconstruction of the physical environment.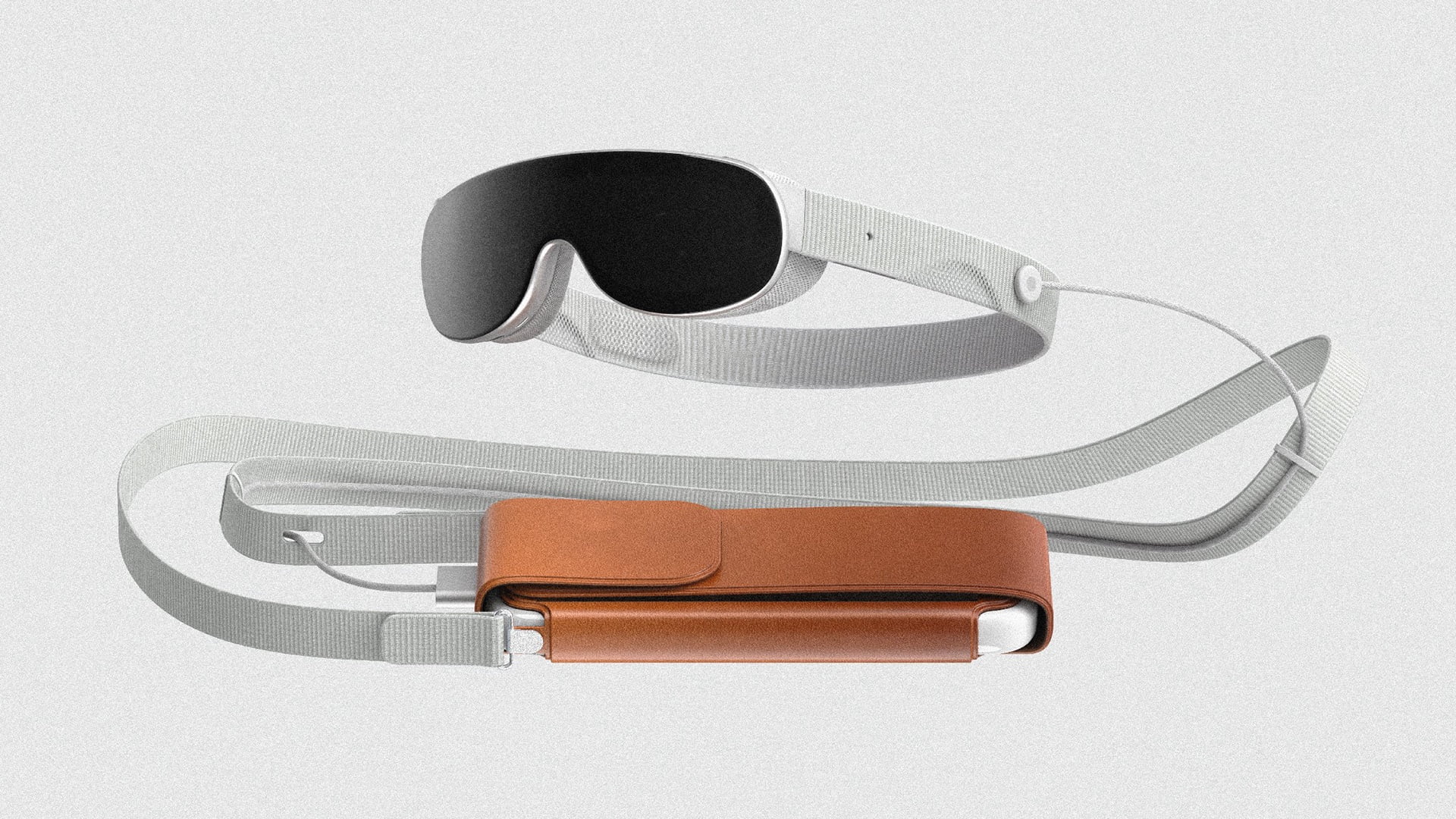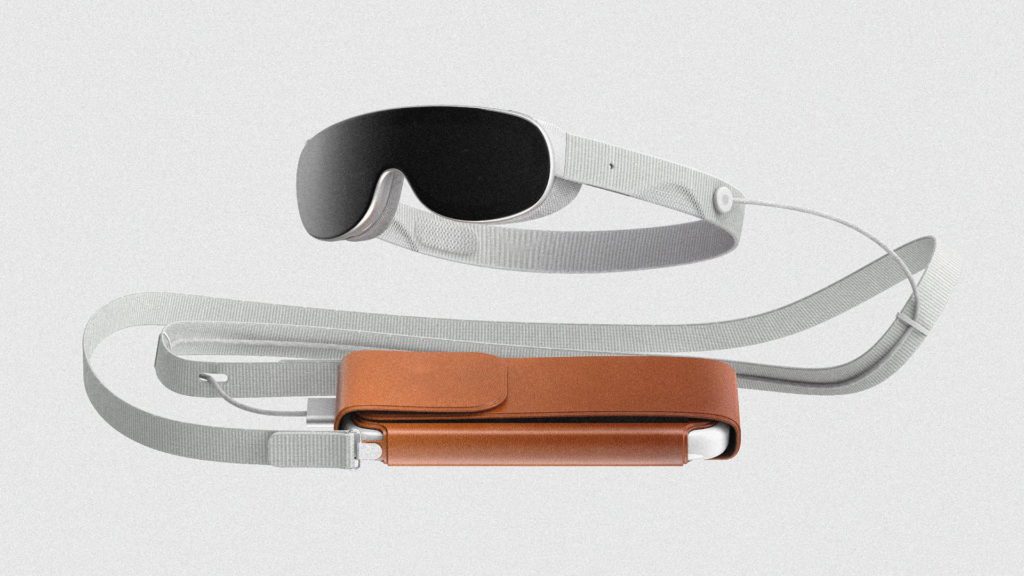 To minimize latency between the two chips, Apple may even rely on a third processor to speed up data exchange between the two.
The Apple Reality Pro's battery is supposed to last about two hours. Unlike other VR headsets, the battery is worn on the hip, allowing for quick replacement and reducing the weight of the VR headset.
Apple is expected to sell additional batteries to avoid long breaks due to charging times. The battery is also supposed to be connected via a cable with a magnetic connector, like the MagSafe system.
Apple must prove itself against established VR industry giants
Apple will enter a highly competitive market that is currently dominated by Meta, Pico and HTC. However, Apple Reality Pro has the potential to successfully shake up the XR market.
By closely integrating into the existing Apple ecosystem, Apple could exploit its market position and offer an attractive solution for companies and private users.
In the coming 12 to 24 months, it is expected that businesses will widely adopt Virtual Reality as a standard technology. This is the reason why Apple is keen on actively participating in this trend, particularly as the B2B and enterprise sectors are currently experiencing significant growth.
Apple is in a favorable position to establish itself as a prominent player in the market. The company can capitalize on its well-established and robust Apple ecosystem to drive the adoption of this emerging technology. Being a trusted technology partner for numerous companies, Apple can quickly gain a significant portion of the market share.
Ultimately, Apple's success will depend on the quality of the hardware, the availability of suitable apps, and Apple's ability to market the VR headset to meet real customer needs. However, we are very optimistic that at the very least, an excellent XR headset will ultimately reinvigorate the industry.
VRdirect advises companies on hardware and software for VR
VRdirect teaches virtual reality to businesses. Training, Education, Presentation, Marketing: In our role as VR professionals, we have successfully implemented many virtual reality projects with more than 50 companies over the past years.
We offer you a no-obligation initial consultation on how to get started with virtual reality, and together we explore the potential for useful VR applications as well as the appropriate hardware. We will be happy to send you the latest VR headsets and demos free of charge – or just visit our showroom and get your own impression.