Imagine if you could be miniaturized and injected into a human artery. Then imagine you are floating there in the plasma whilst a stream of blood cells rushes around you like a shoal of fish. Imagine you can look around you and behind you, and meanwhile a voice explains the purpose of these red and white corpuscles flowing past within a hand's reach. Wouldn't that be an amazing and memorable way to learn about how your body functions?
What you have just imagined can now be experienced in immersive virtual reality. A 360° 3D experience developed by CAT PRODUCTION and VRdirect called 'Wunderpille Bewegung' (meaning 'exercise is a wonder pill') was showcased at an event held this Summer organized by KErn, the Bavarian state's Centre of Excellence for Nutrition (Kompetenzzentrum für Ernährung).
Read on to discover how VR in healthcare is building up its muscles, and how this particular 3D experience was realized.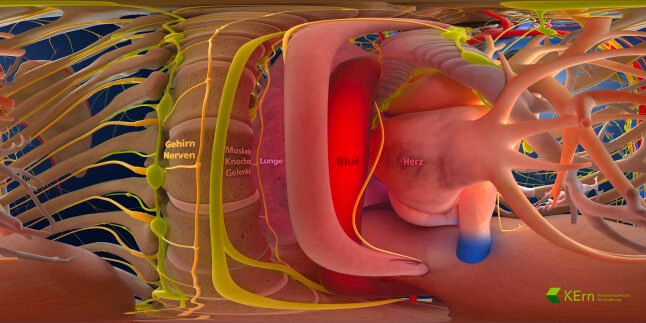 VR in Medicine : an injection of technology with astounding outcomes
Virtual Reality is increasingly being used in the field of medicine, starting with educating our future healthcare workers and midwives, doctors and surgeons. Textbooks of accurate medical illustrations have been used for education since the nineteenth century, when influential and ground-breaking books like Gray's Anatomy (1858), still used today, were first published.
3D models were then developed to show what organs look like and how they fit together inside the human body, without actually having to dissect one. Who cannot picture a doctor's surgery without a clichéd skeleton hanging somewhere?
Virtual Reality is the next iteration in medical educational tools, showing students as if in a real-world experience the invisible workings of the body. Adding dynamic visuals, explanatory audio, and interactivity makes the impartation of knowledge truly memorable. VR medical instruction doesn't just end with the student neither. Using it to show a patient what a forthcoming operation involves, for example how an artificial hip-joint is fitted, helps them fully understand what is going to happen so that they have no fears and uncertainties.
Education leads on to another medical VR application; using Virtual Reality for training surgeons. Taking experienced professionals away from treating patients in order to train students is expensive and impacts on patient care. The alternatives of learning from text-books and watching videos don't offer the hands-on experience needed to hone psychomotor skills.
A recent study conducted by the Imperial College London proved what was subjectively thought, that 85% of students trained in VR could reliably go on to complete surgery in a lab setting. By contrast, the percentage of those trained with traditional methods able to do this was zero! You can read the full story here.
Another application that popularized virtual reality is its use in medicine to treat phobias and stress disorders. A lot of research has been conducted on its effectiveness, and again the findings are clear: the immersive nature of VR experiences allows for repeated and controlled exposure to emotional stimuli in a safe condition. Over time this reduces the stress or fear-response to those stimuli.
Finally you might consider the use of Virtual Reality experiences in creating meditative environments that increase mindfulness and wash away stress. VRdirect's "Relax with Nature" VR app is one such example.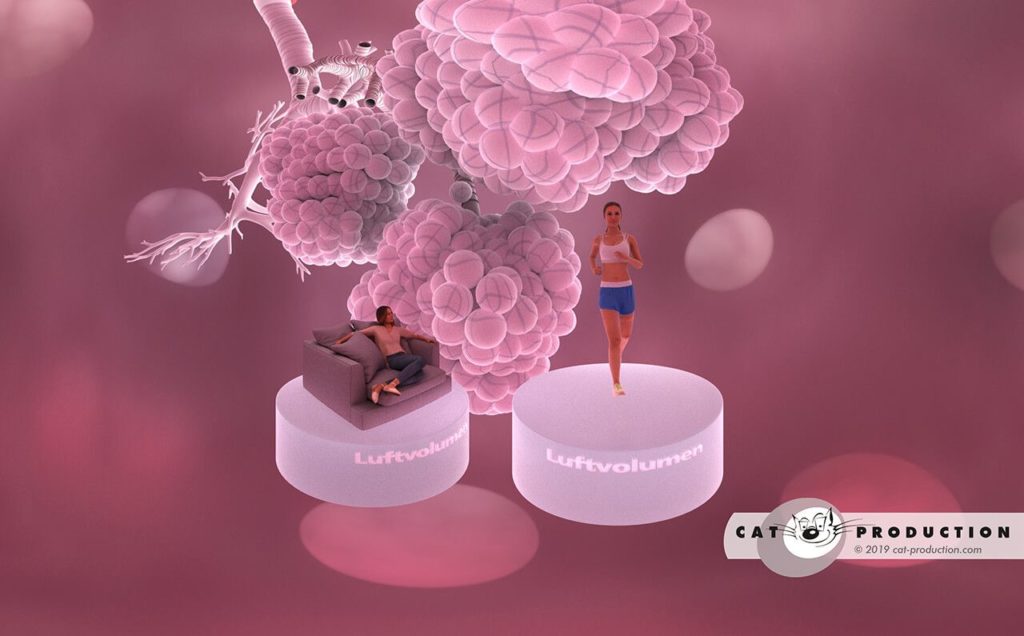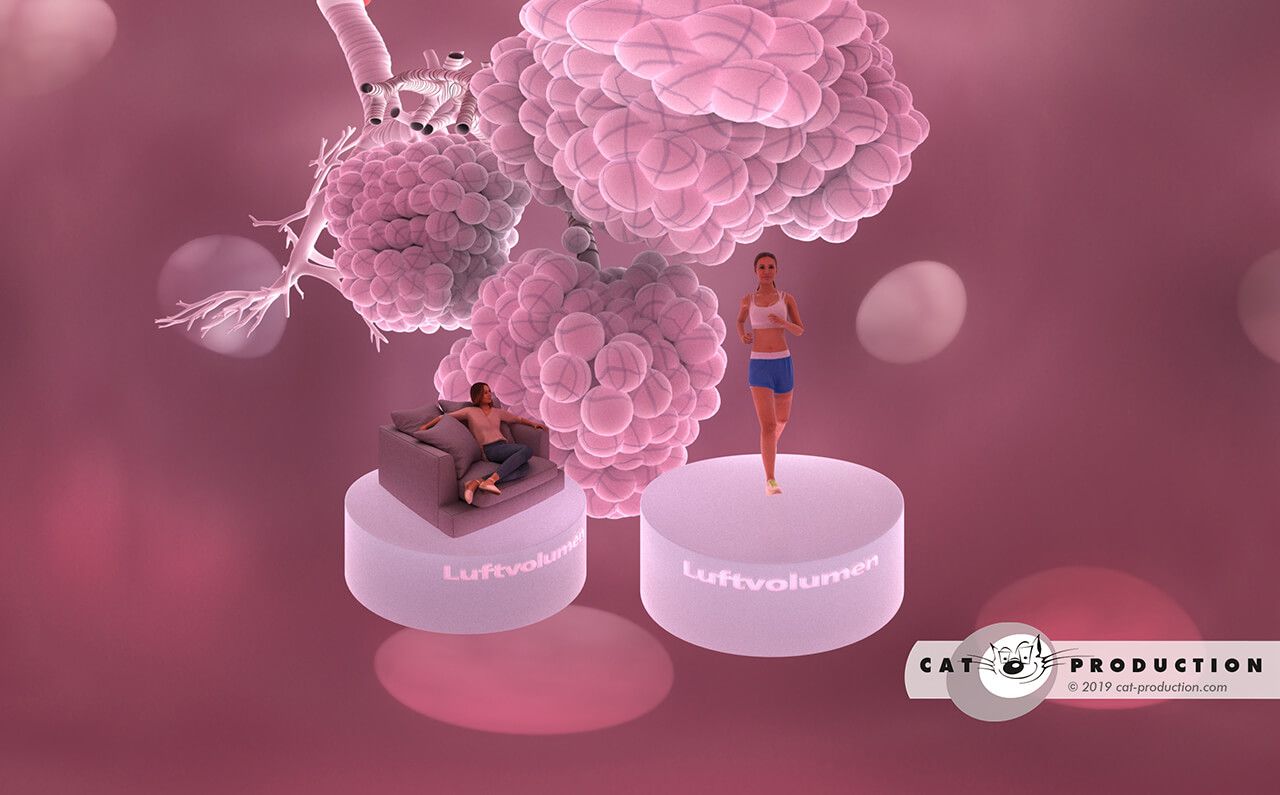 Case Study: KErn and CAT PRODUCTION and the 'Wunderpille Bewegung' VR Experience
KErn is the Bavarian State Ministry for Food, Agriculture and Forestry's 'Centre of Excellence for Nutrition'. It supports the Bavarian food industry and, amongst other things, organizes activities with an aim of combining health-promotion and the sustainable aspects of nutrition together with the enjoyment of eating healthy food. Their overarching motto is 'Richtig gut essen' : eat really well.
One of the activities co-ordinated by KErn is the 6. Bayerische Ernährungstage or 'Bavarian Nutrition Days', which this year ran from 27 June to 13 July and had a theme of digitization in the fields of nutrition and proper exercise.
It was at this event that a VR experience titled 'Wunderpille Bewegung' or 'Exercise is a wonder pill', as described earlier, was showcased. This was a creation built by Munich-based CAT PRODUCTION together with VRdirect. CAT PRODUCTION's images of the human anatomy are based on detailed and very precise 3D computer models of the human skin, bones, ligaments, muscles, organs, nerves and vessels. When animated and brought into a virtual reality world, our incredible VR journey into the workings of the blood circulatory system and beyond was born.
Building the 'Wunderpille Bewegung' with VRdirect
The process of building a VR experience is greatly simplified using VRdirect, and no specialist coding skills are required. The first step is to storyboard your experience and map out the virtual journey. In the case of 'Wunderpille Bewegung' we wanted a strong message to fit in with KErn's event theme of using digitization to promote correct eating and exercise. To do this, key biological systems were identified that show for example how nutrition and exercise build strong bones, and how exercising increases oxygen to the brain which in turn promotes mental well-being.
With a structure in place for the walk-about around a human body, these areas and the interaction that moves our miniaturized voyager were created in the VRdirect Studio platform. Simply drag-and dropping files added the amazing CAT PRODUCTION CAD animations and voice-overs to the story. And then with one click, the experience is published to the VRdirect CMS cloud and distributed across multiple platforms and devices.
Offer Your Event Visitors an Incredible Journey
Would you like to fascinate visitors with a special kind of experience at your next event?
The 'Wunderpille Bewegung' application, together with VR headsets, is available for hire.
To enquire about availability, send an email to presse@kern.bayern.de. Note that the application is in German. Find out more information here.