2019 has been the year, when Virtual Reality became a standard technology for countless enterprises and a wide range of applications. 2019 has also been a year of great achievements for VRdirect, as the company went from a relaunch in April to bringing simple and cost-effective Virtual Reality solutions to many corporates. Here is a roundup of VRdirect's accomplishments in 2019 and a forward look to an exciting future.
Viond becomes VRdirect and Attracts New Investment Partners
The year started with the relaunch of our platform switching from the VR library Viond to become the Enterprise focused VR platform VRdirect, that enables enterprises to get started with VR and internalize VR project delivery. Apparently, the market was looking for a solution exactly like VRdirect.
A Wide Range of Virtual Reality Projects Go Live
During 2019, VRdirect worked in partnership with numerous corporate clients to enable a diversity of projects and use cases demonstrating the wide-ranging impact of Virtual Reality.
All in all, VRdirect has managed to acquire more than 30 B2B clients including six DAX30 companies, namely Siemens, Deutsche Telekom, Henkel, Lufthansa and VW/Porsche.
While all of these corporates were ultimately convinced by VRdirect because of the fact, that VRdirect can be implemented as an internal VR platform that enables insourcing of VR project delivery and building internal expertise, all of them use VRdirect for different use cases and forms of operation.
Siemens, Lufthansa and Henkel are using VR for safety instructions, field operations and even marketing cases. Porsche is focusing on employee onboarding with VR to begin with. Deutsche Telekom is using VR for internal projects but has also become a great partner for VRdirect in reselling VRdirect to their large corporate clients.
Besides, we have enabled many more clients to get started with VR: MAN Truck & Bus enhances 3D content with VRdirect so that they could show visitors to this year's Busworld exhibition, in virtual reality, the construction of their Lion's City 12 E electric bus.
Other projects include enabling biomedical testing company Beckman Coulter to show customers large immobile products at events; creating an interactive virtual tour of DMEXCO digital industry trade fair, supporting a roadshow by the European Red Cross, enabling Deutsche Welle to publish an interactive tour of German UNESCO World Heritage sites and helping startup Evum Motors sell their idea of an electric mobility truck for developing countries.
And that's only a few examples! Many other companies and organizations started to use VRdirect in 2019 for many different use cases (some of them, we weren't expecting at all). And for most of these clients, the VR journey has just begun. With VRdirect being now THE VR platform, you can be sure that we'll be seeing them developing lots more exciting projects with VRdirect in 2020.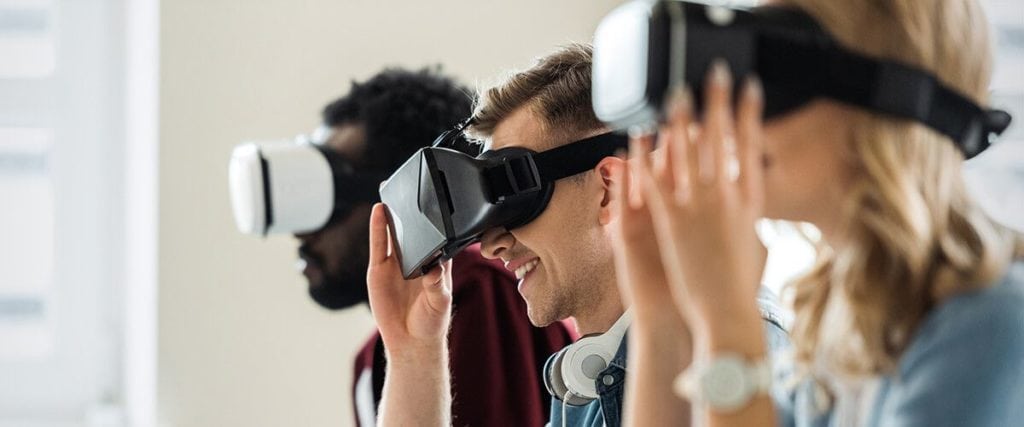 Product Improvements Make VRdirect More Widely Available and Easier to Use
We have improved the VRdirect platform significantly throughout 2019, bringing advances in performance, usability and cross-platform support.
First off, the WebVRplayer was upgraded to make VR projects available to a wider range of VR devices. Mobile VR systems like Oculus Go are the preferred hardware for VRdirect. However, desktop VR systems like Oculus Rift and HTC Vive are still in use and the WebVRplayer upgrade means that they too can give the full immersive VR experience to projects created with VRdirect.
Then, following background optimization and performance improvements, release 1.9 of the VRdirect Builder increased the software's usability, making it even easier and more intuitive to create and publish amazing VR projects.
VRdirect Attracts Investment Partner
In two financing rounds, VRdirect managed to secured growth capital from existing and new shareholders. Among the long term investors are the Founders of German unicorn Flixbus, who continued to increase their share over the course of the year. Later in 2019, BayBG Bayerische Beteiligungs Gesellschaft one of Germany's largest equity capital providers invested in VRdirect.
According to Flixbus founder Daniel Krauss: "VRdirect developed strongly in 2019 and achieved a leading market position in the field of virtual reality solutions for enterprises. We are convinced of its success and are combining our start-up experience with the new investment of BayBG as a solid financing partner." – November 2019
The Future is Bright, the Future is VR
There is no doubt, VR is on the ascendancy and will find more and more industries and use cases where it will be a game-changer in many ways.
VRdirect will be at the forefront of enabling corporates to get started with Virtual Reality and will continue to develop their platform to deliver the best VR platform on the market.
We'll be starting off the new year with a major update by releasing the all new VRdirect Studio with a completely new and optimized user interface specialized for ease of use in the B2B enterprise segment and a set of new features.
2019 was the year when many enterprises realized that Virtual Reality enables a wide range of promising use cases. 2020 will be the year when VR will become a standard technology for enterprises!