How the Sparkasse HagenHerdecke features its digitization expertise with Virtual Reality
About the Sparkasse HagenHerdecke
The Sparkasse HagenHerdecke is a public savings bank based in Hagen, in the north-west of Germany. Comprised of 31 branches and self-service locations, it employs almost 500 people in the cities of Hagen and Herdecke.
Finding an innovative format for an innovative solution
The Sparkasse HagenHerdecke is renowned and trusted by its numerous private and business customers, in all matters of financial, asset and pension planning. Alongside the classic financial products it offers, it also provides extensive digital services, such as online banking, apps and mobile payments.
However, customers haven't always known what potential digitization has for their ​​banking activities. That's why the Sparkasse HagenHerdecke provides its customers with the "S Digital" initiative in its Sparkasse-Karree main office: a comprehensive range of advice, so customers can learn more about the bank's digital products and services. Sparkasse's employees support customers in setting up and operating digital solutions, or customers can join training courses and lectures to find out more about the potentials of digitization.
"S Digital" is already prominently featured on Sparkasse HagenHerdecke's various channels, such as the company's website, Instagram and Facebook pages. However, on-site contact is also important for the digital sector, as this is where customers can directly meet the Sparkasse's digital experts. To give customers better insight into the "S Digital" world and to convey vital information about their digital offerings, Sparkasse HagenHerdecke was searching for a format that fit perfectly with their digital solutions' high degree of innovation, while also generating additional interest with interactive content.
Interactive infotainment via Virtual Reality
The Sparkasse HagenHerdecke identified Virtual Reality as that perfect format due to its immersive technology. VR's high innovation potential can optimally supplement the digitization features offered by the Sparkasse and was therefore particularly suitable for highlighting the "S Digital" offer. However, the Sparkasse HagenHerdecke had no previous experience with Virtual Reality. Here, VRdirect offers a perfect solution for easily creating your own apps through the "VRdirect Studio" platform. Crucially, this makes it possible to integrate Virtual Reality solutions directly into your website, allowing for a simple user experience. The fact that VR projects can be managed independently proved decisive for the Sparkasse's motivation to use the VRdirect platform.
Together with Virtual Reality specialist Ilya Pusenkoff (pusenkofffilms), the Sparkasse HagenHerdecke was able to create a Virtual Reality app as the ideal marketing measure for "S Digital" on its website. The result of this collaboration is an elegant interactive infotainment solution, which places the user directly in front of the "S Digital" branch in the Sparkasse-Karree, to be greeted by helpful employees. Here, you can look around freely and explore additional information via interactive elements. As the experience progresses, you can use the "S Digital" branch and learn more about all the digitization offers available from Sparkasse HagenHerdecke, explained by Sparkasse employees and interactive elements.
Users get a detailed impression of the products, the local availability and contacts in an entertaining way. In addition, this highly interactive medium given by Virtual Reality underscores Sparkasse HagenHerdecke's innovation mission and fits seamlessly into the comprehensive range of the "S Digital" campaign.
A reliable platform for interactive applications
With the virtual tour of the "S Digital" store, the Sparkasse HagenHerdecke was able to implement a Virtual Reality application entirely independently for the first time. The VRdirect platform, which specializes in intuitive user experience, ensures that the Sparkasse team can continually develop additional applications or expand existing ones as needed.
With the VRdirect Web Player, these can be easily placed on your own website, making it possible for applications to be advertised on additional channels such as social media.
"The VRdirect Web Player offers customers the chance to get interactive information directly from the dedicated website for 'S Digital' and its associated services."
In this way, VRdirect adds another versatile tool to Sparkasse HagenHerdecke's innovative communication approach, allowing its team to work independently and without extensive prior training.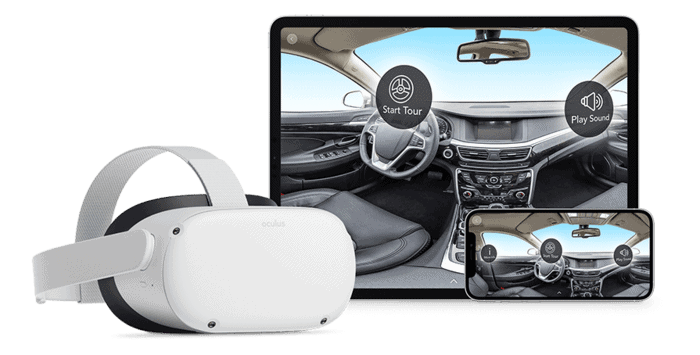 Schedule a free product demo and learn how to easily create interactive 360° VR experiences.
Nestlé began integrating Virtual Reality into the company early on, for instance to improve employee safety through flexible learning. A current example is the Girona Pedestrian Safety Training.
How does a bank maintain personal contact with customers and partners in the digital transformation? With virtual reality, as the Creditplus case impressively shows.
At numerous airports, Fraport AG is responsible for a wide range of comprehensive service areas that go far beyond the smooth running of aviation activities. For example, Fraport operates the Visitor Center at Frankfurt Airport, an interactive world of experience covering all aspects of the airport.