Virtual Reality (VR) technology has grown by leaps and bounds in just the last decade.
Experiencing VR used to only be possible with high-end computers and oversized (as well as expensive and overcomplicated) pieces of VR interfacing technology, and today it's possible to step into an even more detailed and hyperrealistic VR world with nothing more than your smartphone and a Bluetooth enabled headset. Also, with Oculus Go there now is an all-in-one virtual reality headset that allows you to dive into the VR world everywhere with no phone to drop in or PC to connect to.
The technology used for creating these VR experiences has also grown by leaps and bounds. 360° cameras allow us to capture the world around us in stunning high definition or even 4k, and software tools and technology allow us to create immersive virtual reality worlds and experiences that simply wouldn't have been possible even just a decade ago.
A big piece of the VR puzzle is getting your hands on 360° cameras that allow you to capture media in a way that makes it useful for VR. The right camera will make your life a whole lot easier. The wrong camera will make creating VR experiences a nightmare.
By the time you're done with this guide, you'll know EXACTLY how to find the perfect 360° camera for your needs – regardless of what those needs (and your budget) may be right now!
Let's dig right in.
Overview
Since this is quite a long article, we created a short overview for you with all the things and cameras we will be looking at.
Special Features To Look For In Top 360° Cameras


The Ability To Capture Legitimate 360° Images And Videos
Image And Video Resolution
Stitching Capabilities
More Lenses Are Always Better
360° Camera Reviews


Panono Camera
Samsung Gear 360°
Insta360 Nano
LG 360cam
Bublcam
Ricoh Theta S
Ricoh Theta V
360 Fly 4K
GoPro Fusion


Special Features To Look For In Top 360° Cameras
More cameras are available on the market today capable of shooting 360° still images and video than ever before, with even more cameras flooding into the market on an almost daily basis.
Combine that overwhelming amount of choices with the fact that every manufacturer of 360° camera hardware is going to promise the moon and the stars when it comes to what the camera is capable versus the competition and you'll soon see why it's so easy for folks to get bogged down in this decision.
Thankfully though, by highlighting a handful of very specific special features you'll want to look for in the best cameras on the market today you will be able to narrow down your options dramatically. The following infographic gives you a short overview on what to look for when buying a 360° camera.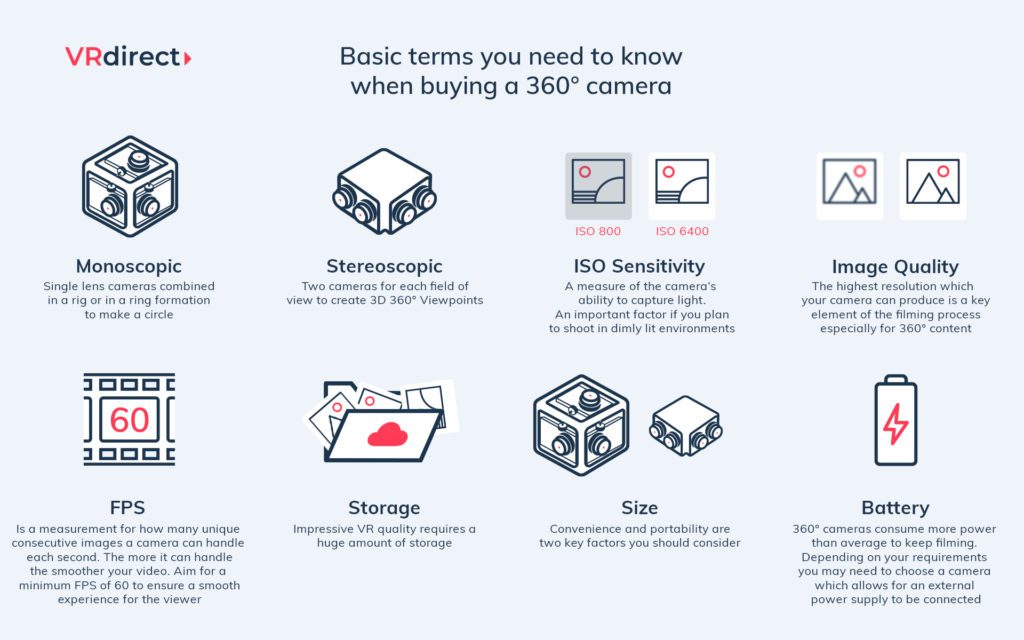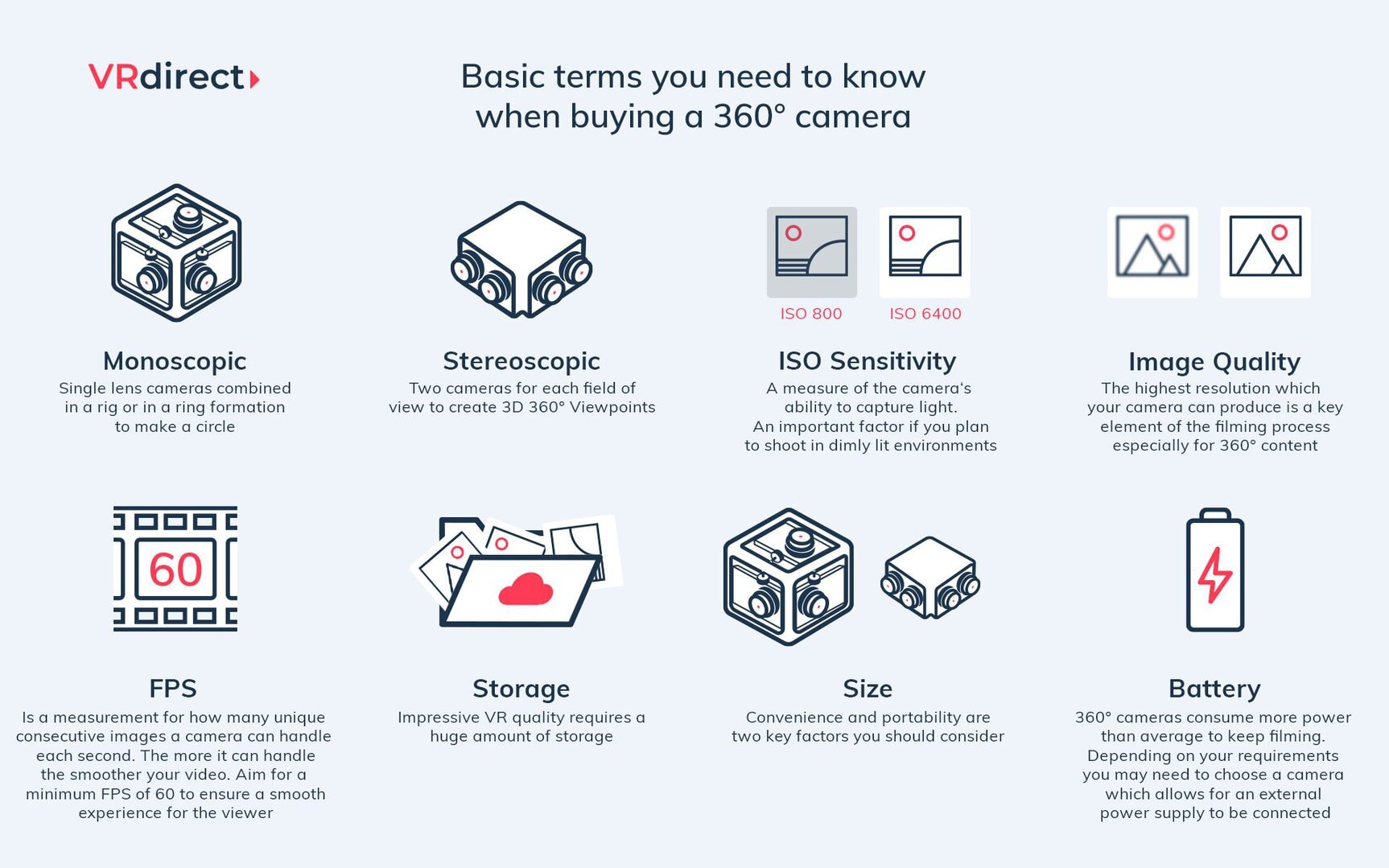 The Ability To Capture Legitimate 360° Images And Videos In The First Place
This may sound a little bit redundant, but believe it or not some of the cameras you'll see advertised on the market today aren't capable of capturing 360° imagery but some digital facsimile of that output.
Obviously, that's just not going be enough – especially when you're using powerhouse tools like ours here at Viond to create VR experiences that are engaging and immersive.
Look for cameras that are capable of shooting in 360°, produce high quality spherical images or videos, and are capable of shooting a number of images and angles concurrently.


Image And Video Resolution Is Critical, Too
It is obviously a good idea to try and get your hands on cameras capable of shooting in as high a resolution as possible, with 1080p resolutions being the absolute baseline that you should shoot for.
720p is the resolution that most budget 360° cameras are pinned at, and while this resolution won't look that bad when you're VR experience is seen only on a handheld device once you get into larger format the obvious image artifacts will ruin the immersion completely.
If you're able to get your hands on a camera that shoots 4K (especially 4K video), with standalone images that are at least 15 megapixels, you'll be good to go. This is close to the top of the line as far as these types of cameras are concerned without blowing your bank account or your budget into tiny little pieces.


Stitching Capabilities Should Be Built Right In
While it is certainly possible to take the "raw" data captured by your 360° camera and handle all of the stitching in a software separate from the camera hardware, that's always going to take a lot more time and add an unnecessary step in the process.
Look for cameras that include built-in stitching capabilities that are quick, accurate, and seamless and you'll have a lot less to worry about when it comes to postproduction.


More Lenses Are Always Better
A 360° camera with multiple lenses will almost always produce better quality finish results than those that have fewer lenses, though a handful of the two lens options on the market today can produce pretty solid results. As a general rule, shoot for at least four different lenses (and ideally quite a few more than that) and the quality of your 360° image or video output increases dramatically.
Moreover, you should look for terms like monoscopic, stereoscopic, ISO, FPS, storage, size and battery life as well as many more details.
To get you started here we created another blog post on what to look for in a 360° camera. You can find it here.

Highlighting The Best 360° Cameras On The Market Today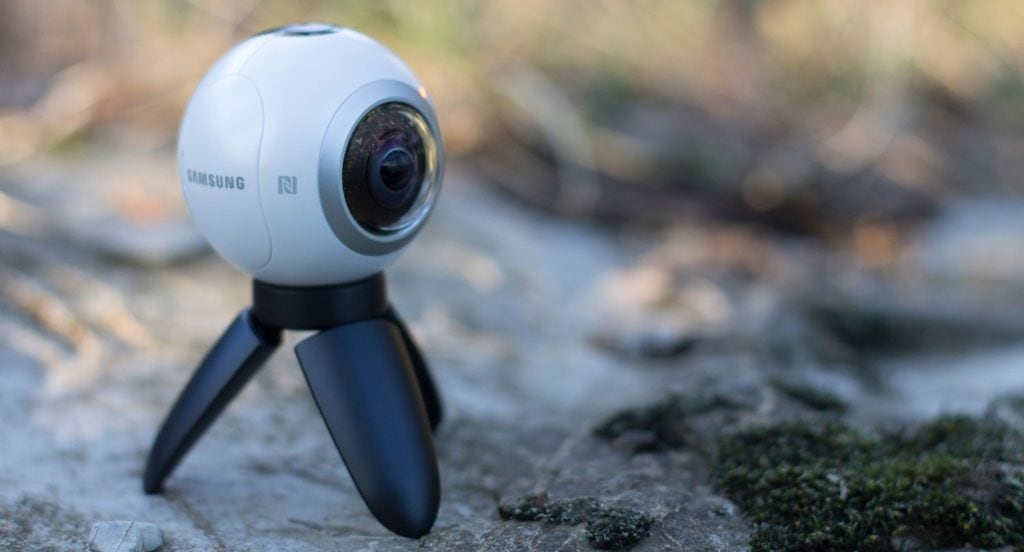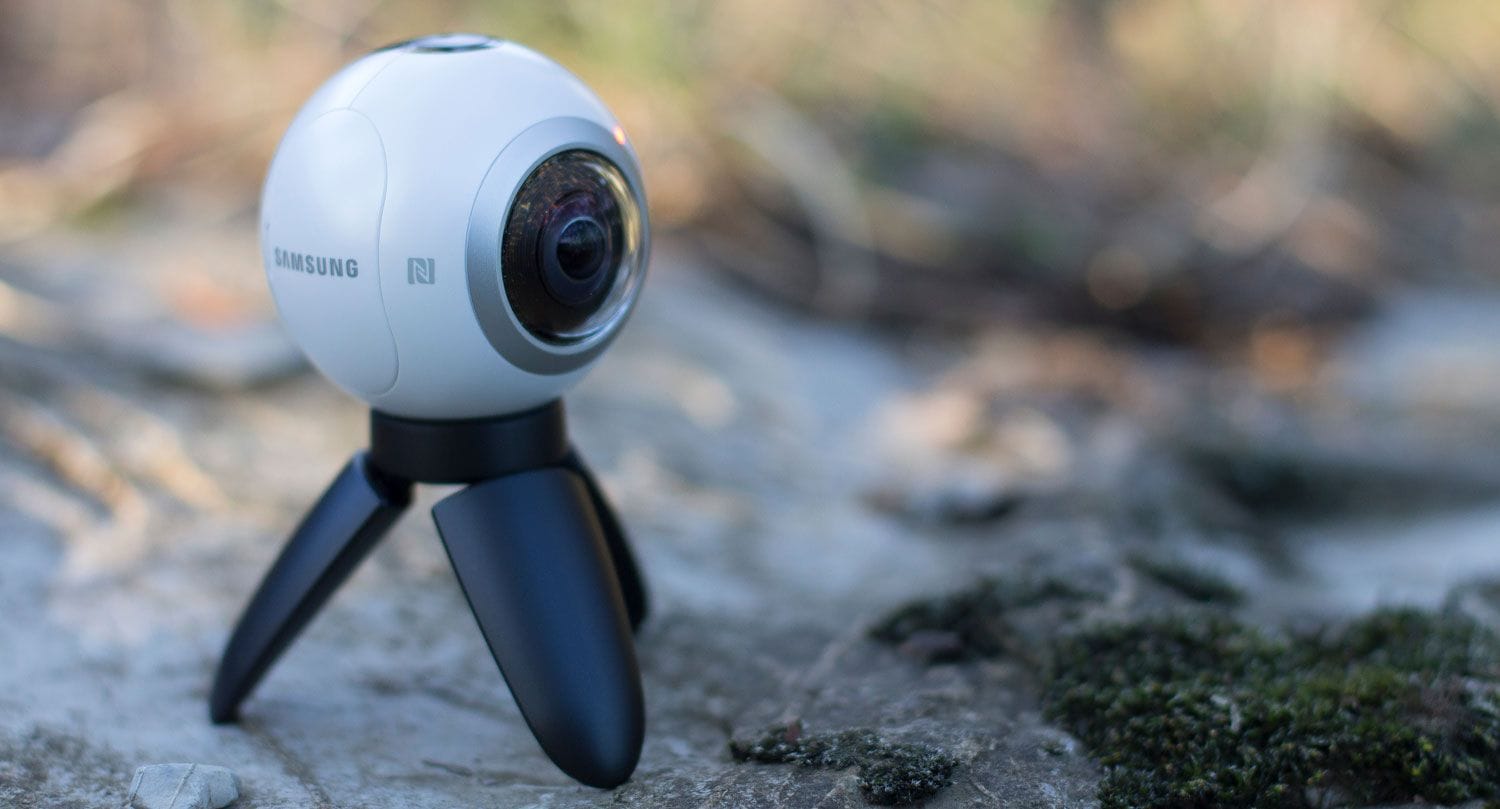 Source: Shutterstock.com
• 4K video resolution and 30-megapixel images
• Two lenses
• Upwards of 128 GB of external storage
• 1350 mAh battery
• Water resistant
Certainly one of the most affordable 360° video cameras available on the market today, especially as far as 4K video capture is concerned, this is also one of the first VR specific cameras to be produced by a major technology company and not a niche operation.
Probably best used with the partner Samsung Gear 360 mobile application (available for both Android and iOS devices), the entire control scheme of this camera is paired to that mobile app – which can be a good thing or a bad thing, depending upon how you plan to use this camera.
Perhaps the most popular of all the different 360° video cameras available out there right now because of its high quality output and affordability, the fact that it includes a custom tripod as well as the ability to interface with production software outside of the mobile app makes this a worthy contender.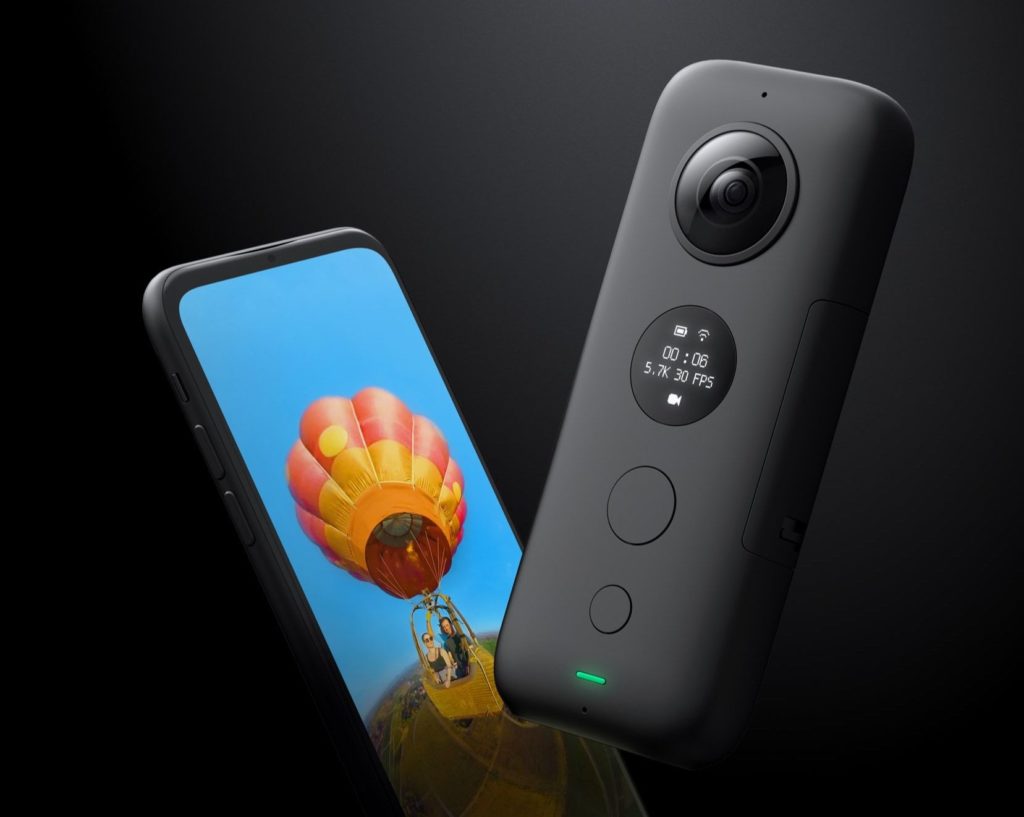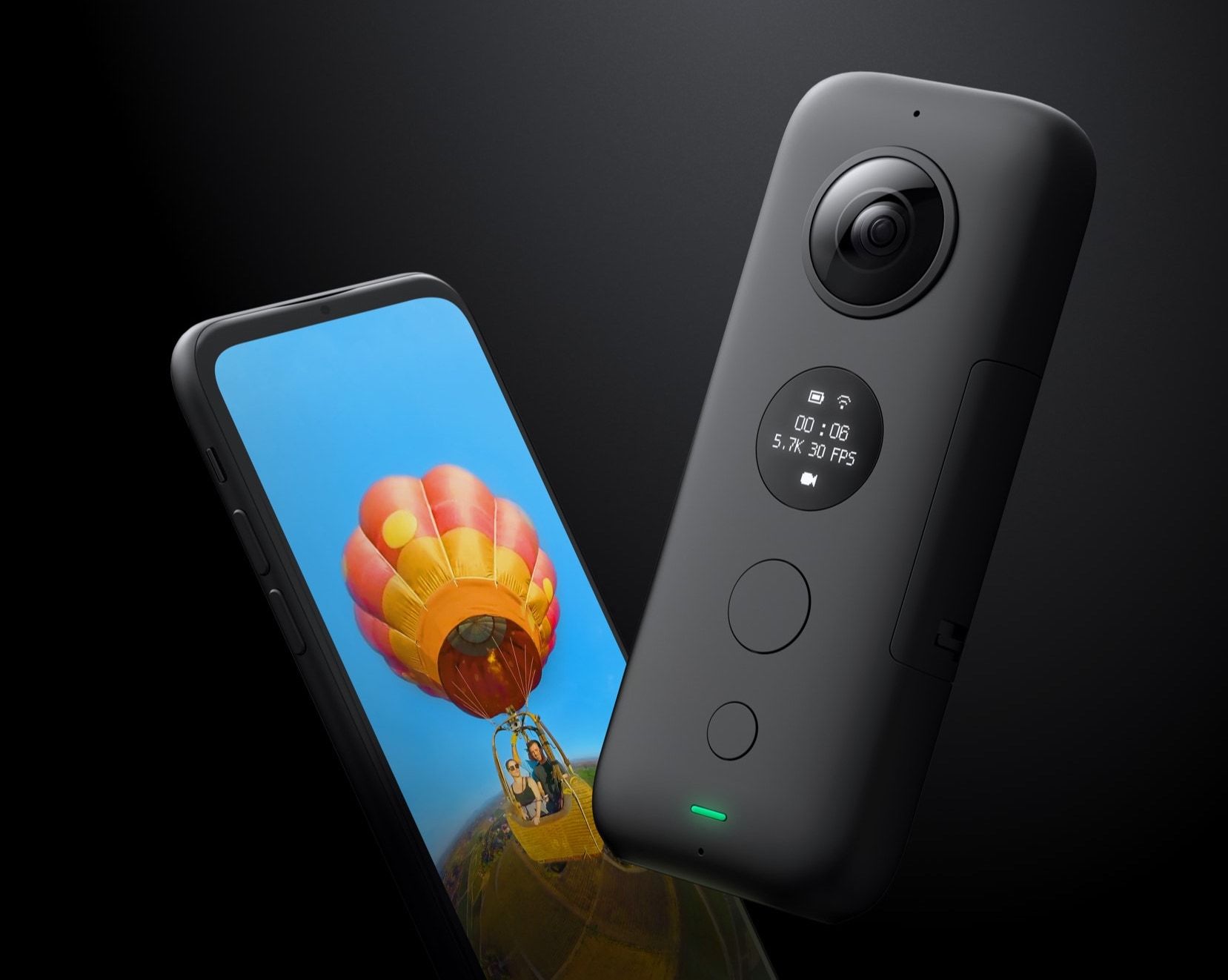 Source: Insta360.com
• 5.7K video resolution and 18 megapixel image capture
• FlowState Stabilization
• Upwards of 128 GB of external storage available
• 850 mAh battery pack
• Clips right onto your iPhone
The 5.7K resolution of the Insta360 ONE X makes your 360 degree video look really sharp while the 18MP shots make stunning photos! Flow state stabilization makes flow state as smooth as possible while normal action cameras are left shaking. Shoot and transfer your content within seconds. With the Insta 360 App and by using the 5 Ghz high-speed wifi transfer. This 360 camera is probably the best that you can get – looking at it's size and the price (399€).

It is compatible with almost every device: From iPhone 6s to iPhone X / Xs / Xs Max and also iPad (devices starting 2018), Huawei P20 Pro, P10, P9, Mate 10 and Honor 9. Several Samsung devices such as S9, Note 8, S8, S7. Also with the Google Pixel / Pixel 2.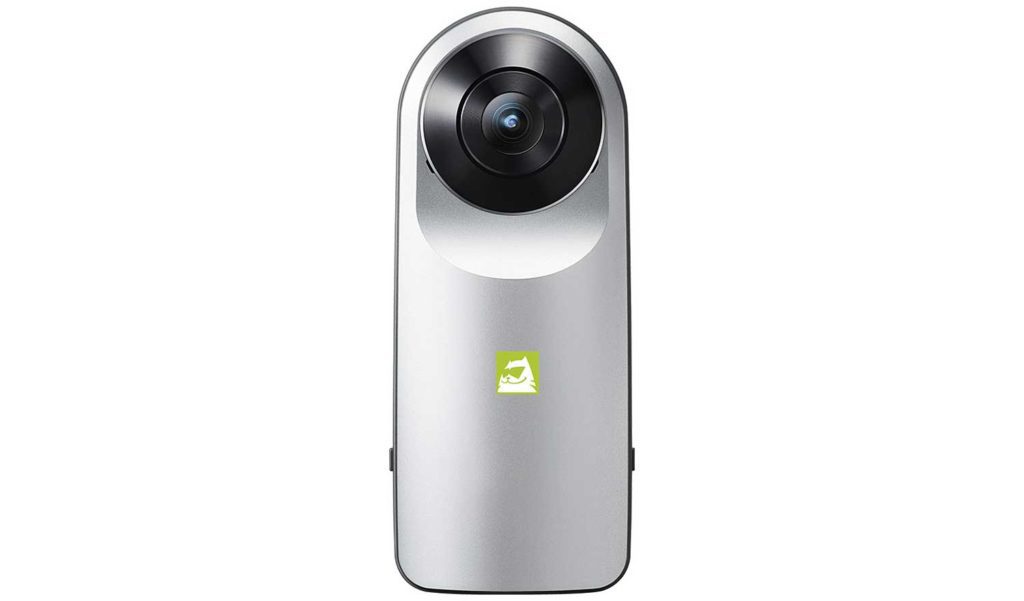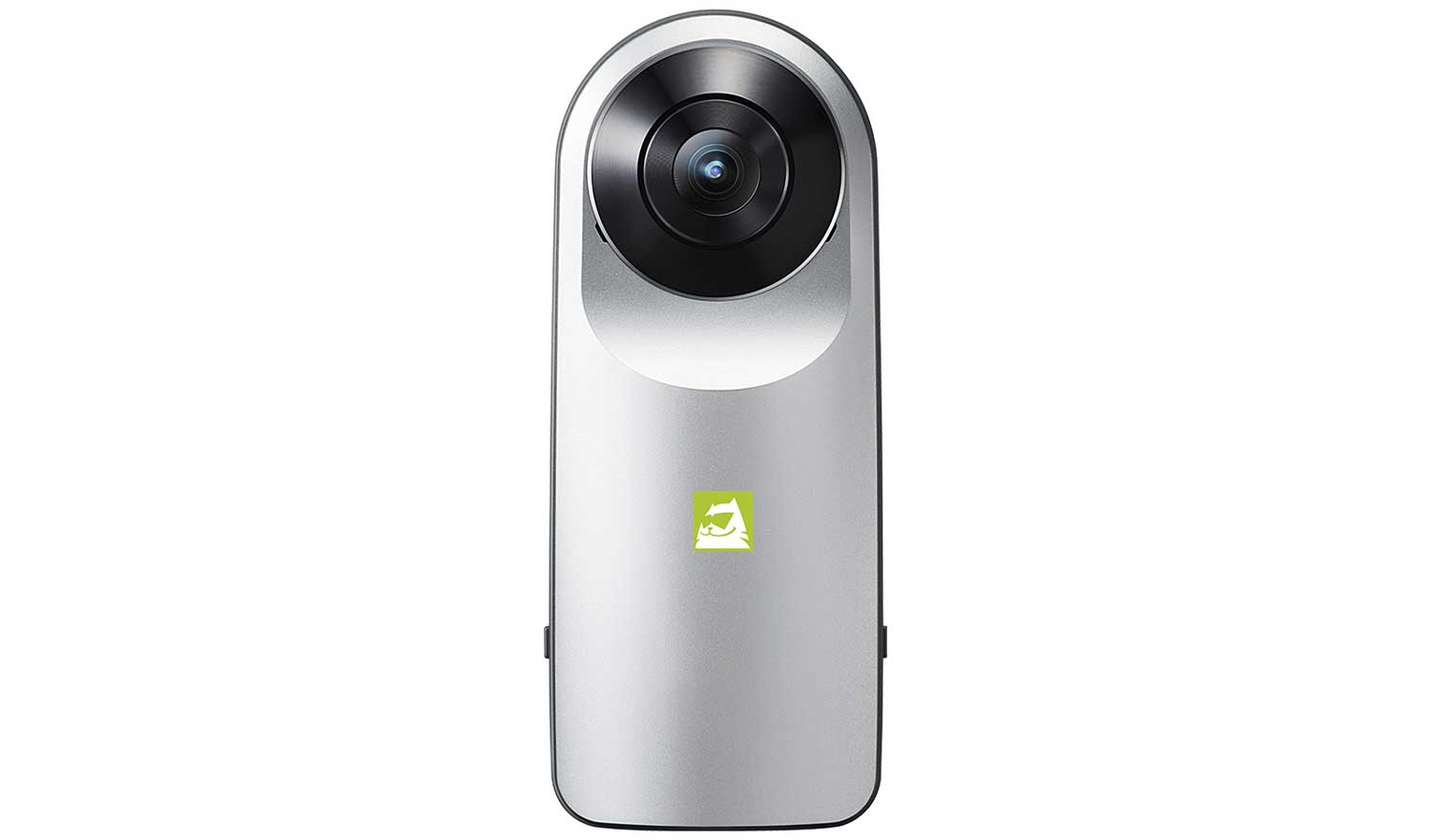 Source: lg.com
• 2K video resolution and 16-megapixel image capture
• Dual lens configuration
• Upwards of 128 GB of external storage
• 120 mAh battery pack
• 3-D directional sound recording capabilities
This particular camera was the very first 360° camera of any kind to be made available for less than $200, and it was established to compete directly with the Samsung camera we highlighted above.
The video and image resolution captured by this camera are a little bit of a downgrade compared to the other options above, but at the end of the day, it's amazing you'd be able to capture video and images of this quality from a device as compact and inexpensive as this.
Interfacing directly with Android and iOS devices (through a Bluetooth or Wi-Fi connection), you'll be able to control your camera directly from your favorite mobile device with no headache or hassle whatsoever.
The real selling point of this particular camera has to be its ability to capture 3-D directional audio in full 5.1 channel surround sound, something that none of the other options on this list are capable of. This feature alone can elevate the VR experiences you're looking to produce with your new camera.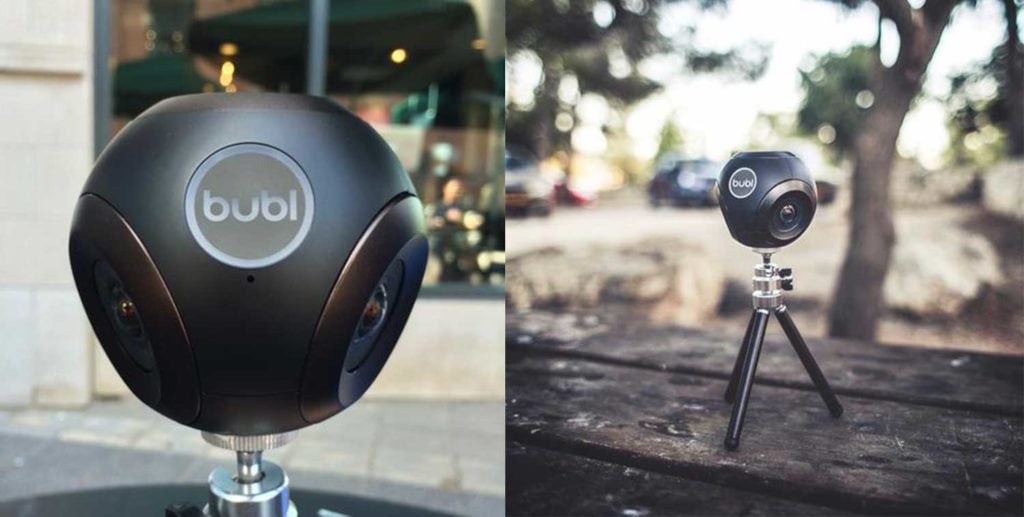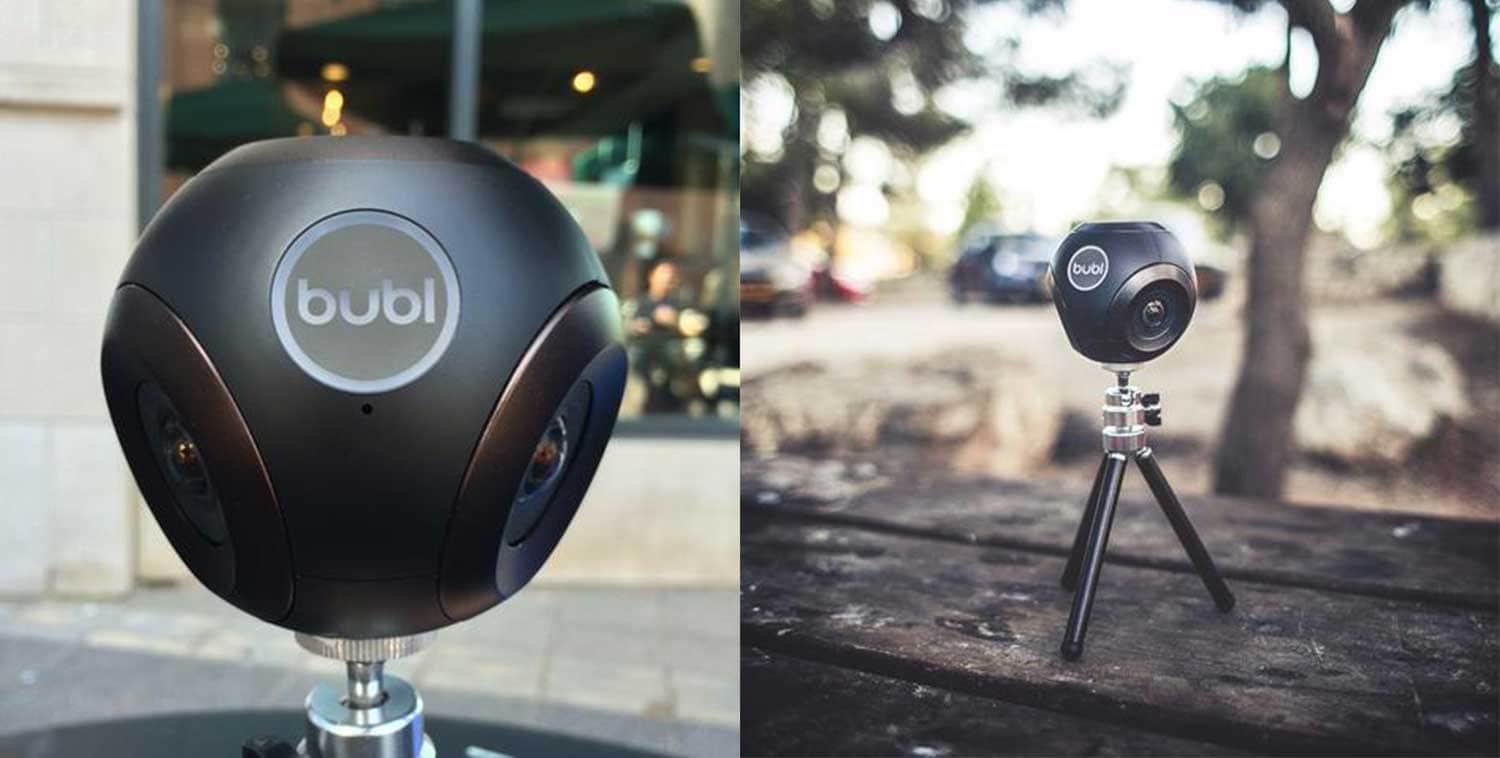 Source: Bublcam.com
• 1080p video resolution and 14 megapixel image capture
• Triple lens configuration
• Upwards of 32 GB of external storage
• 1560 mAh battery pack
• Livestream capabilities and real-time stitching are standout features
A crowdfunding darling and the subject of overwhelming media attention, this camera was produced initially by a Kickstarter campaign before the company started rolling them out through more traditional means.
At first glance, this 360° camera looks a lot like the BB-8 droid from the newest Star Wars movies with its triple lens configuration helping it to capture some very impressive 360° videos and images – with real-time stitching capabilities built right in.
These real-time stitching capabilities are nothing to sneeze at, either. Almost all of the other cameras we have highlighted on this list require another application to handle the stitching for you, but this camera is going to do all of the stitching in real time so that the finished result is ready to rock and roll (as well as be exported to a VR platform) just as soon as you finish your capture.
A little bit on the pricier side of things, the resolution that it shoots in limits the capabilities of this 360° camera somewhat. 1080p is the baseline of what you should expect from these kinds of cameras, but it would be much nicer to see a triple camera lens set up shoot in full 4K video. Perhaps the next generation of this camera will help make that possible.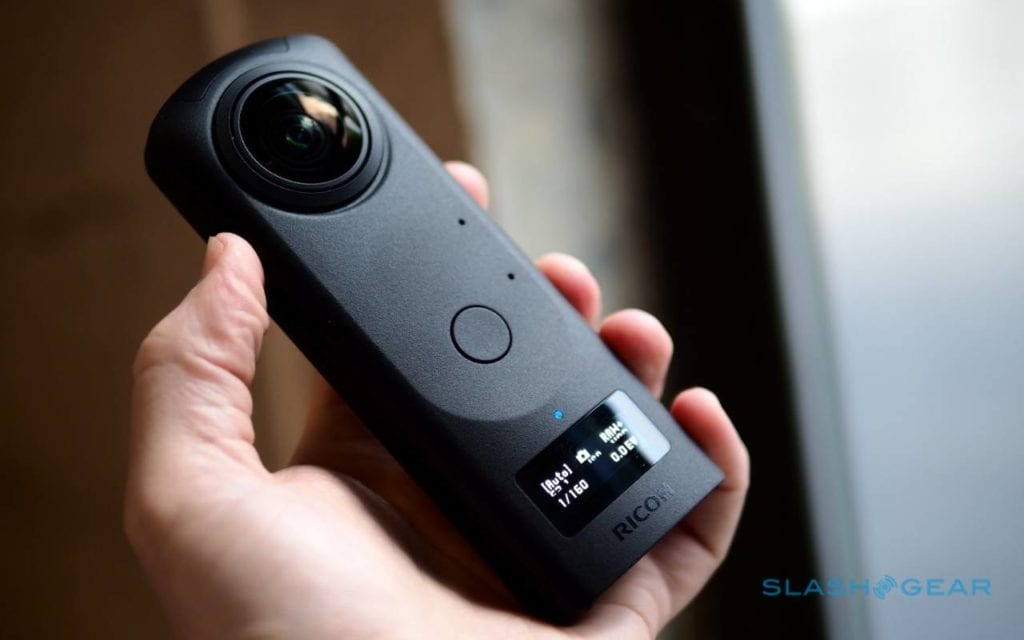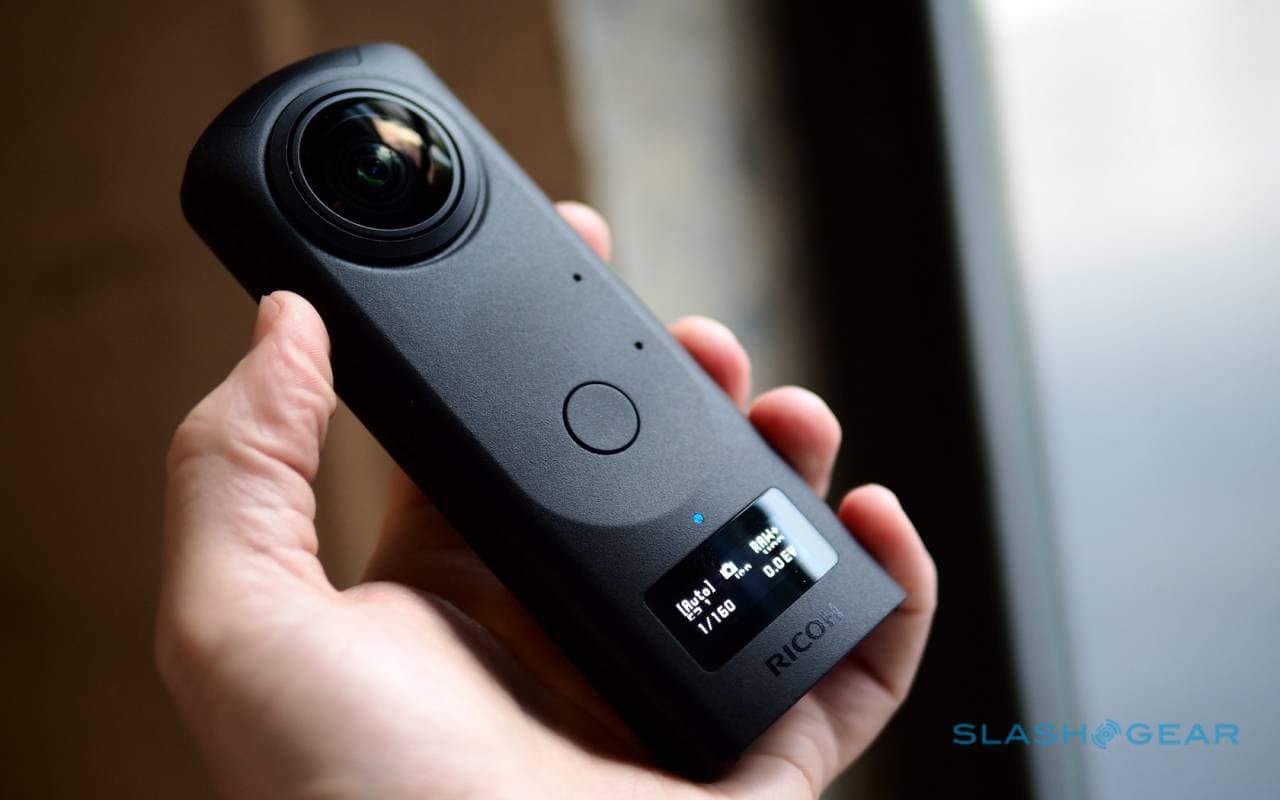 Source: slashgear.com / Chris Davies
• 4K video resolution and 23 megapixel image capture
• OLED display
• 19GB internal memory (up to 2.400 pictures or 40 minutes of 4K video)
• live streaming in 4K
There's a lot to really like about this particular 360° video camera – particularly the clarity and crispness of the videos and images this camera captures – but it's small battery (maximum of 60 minutes) really limits its usability outside of any large-scale VR project.
This is another camera that handles real-time stitching internally, a very impressive feat The storage is capped at 19 GB. Four built-in microphones allow sound recording on four individual channels which then is synchronized with the picture view and assigned to the recording direction.
Comparing to other Ricoh's the Z1 is much more expensive (999€) but still, the ease of use, and "set it and forget it" capabilities of this 360° camera have made it one of the favourite options available on the market today for consumers, however, and it's a perfectly fine jumping off point to begin your exploration in the world of VR if you're just getting started.
The previous and significantly cheaper model offered by Theta is the…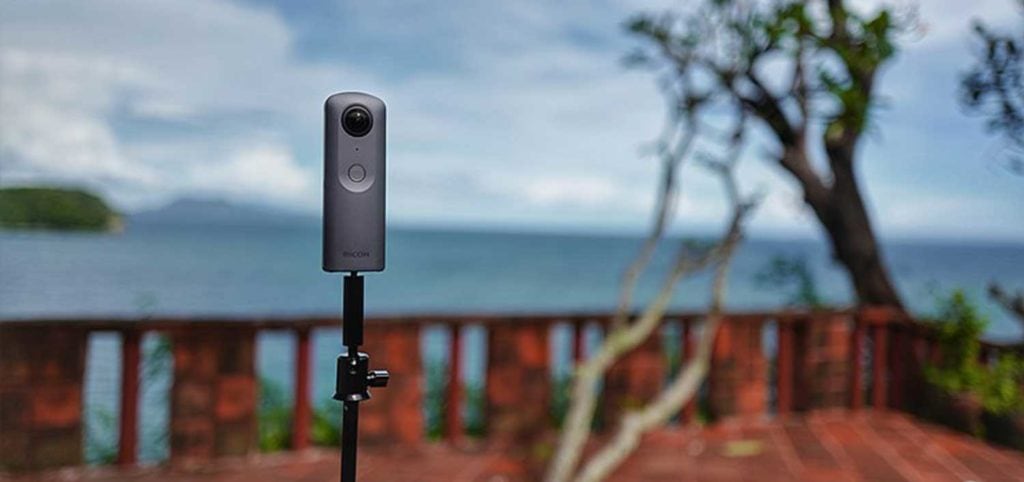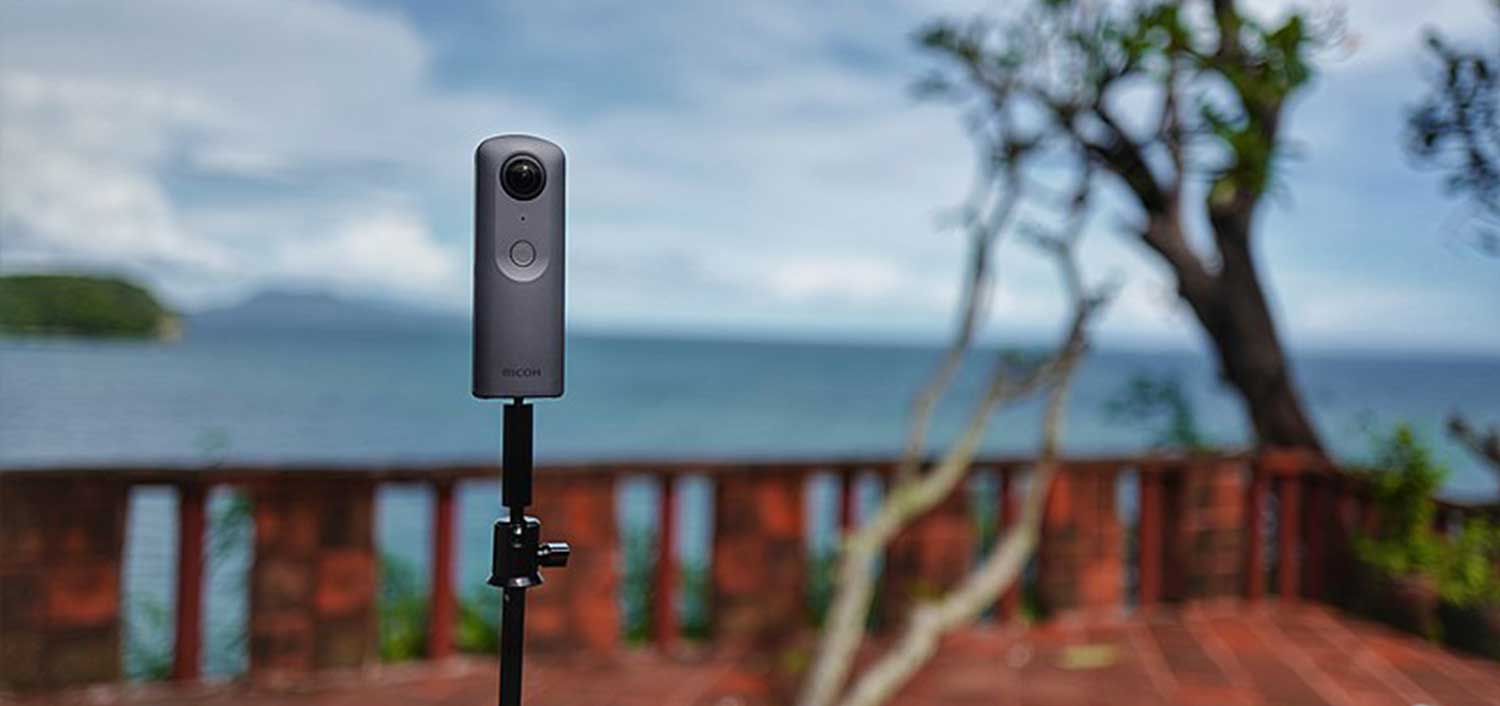 Source: wikimedia.commons / User: Search255
• 3k video resolution and 24-megapixel image capture
• Dual lens configuration
• Non-expandable 19 GB internal memory
• 80 minute run time battery life
From these stats alone it's clear that the Ricoh Theta V is a definite improvement to the Ricoh Theta S. Additionally it offers higher ISO for 360° video as well as photo, improved shutter times and much more. It's definitely worth having a look if the Ricoh Theta S does not meet your expectations.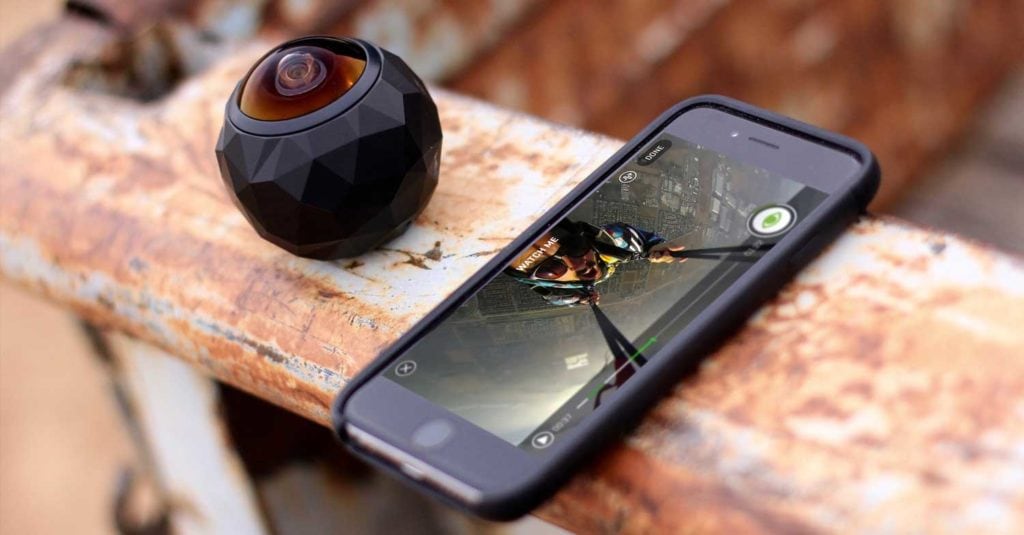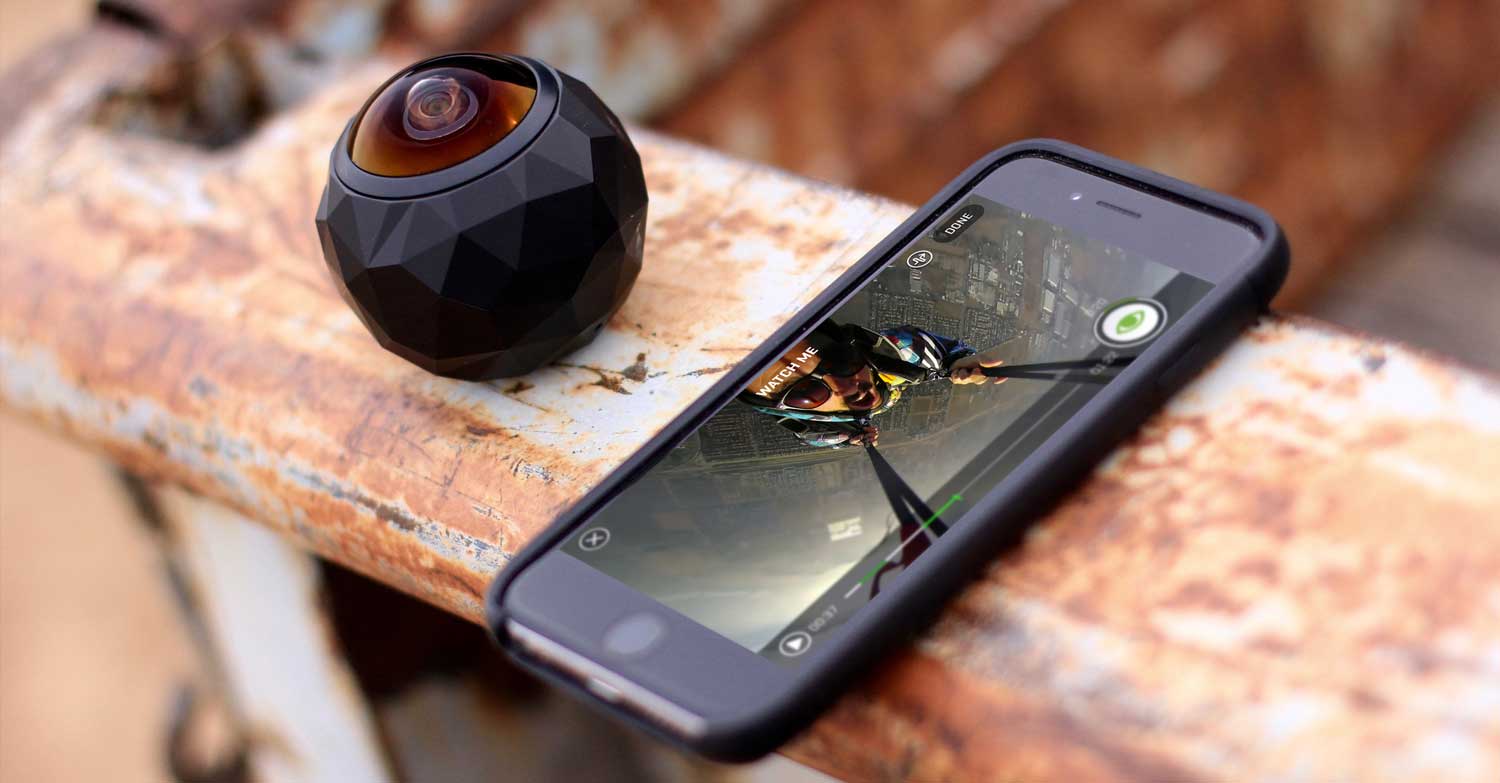 Source: good-design.org
• 4K video resolution and 16-megapixel image capture
• Single fisheye lens configuration
• 64 GB of internal storage (non-expendable)
• The battery is good for about an hour and a half of recording time
• Perhaps the most rugged 360° camera available on the planet today (outside of the military)
Design for adventuress individuals looking to capture 360° video and images in a stunningly high-resolution way off the beaten path, this is likely to be the most durable and rugged camera of its type available for consumers.
This camera includes a built-in accelerometer, gyroscope technology, electronic compass, and 100% independent GPS sensors. It also happens to be fully dustproof and waterproof up to 3 feet, helping guarantee that you'll be able to capture video with this camera almost anywhere and everywhere you find yourself.
The camera integrates with Android and iOS devices for control as well as editing and publishing and connects to those devices through the latest Bluetooth and Wi-Fi protocols. The images and video capture it produces are nothing short of incredible, even though the entire unit only includes a single fisheye lens that limits the depth of field (particularly for VR capture).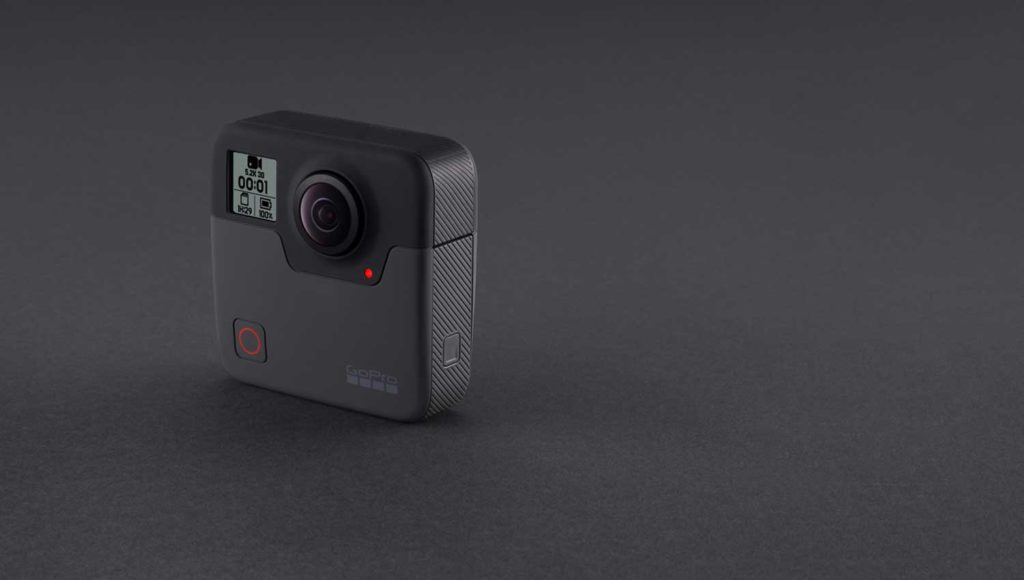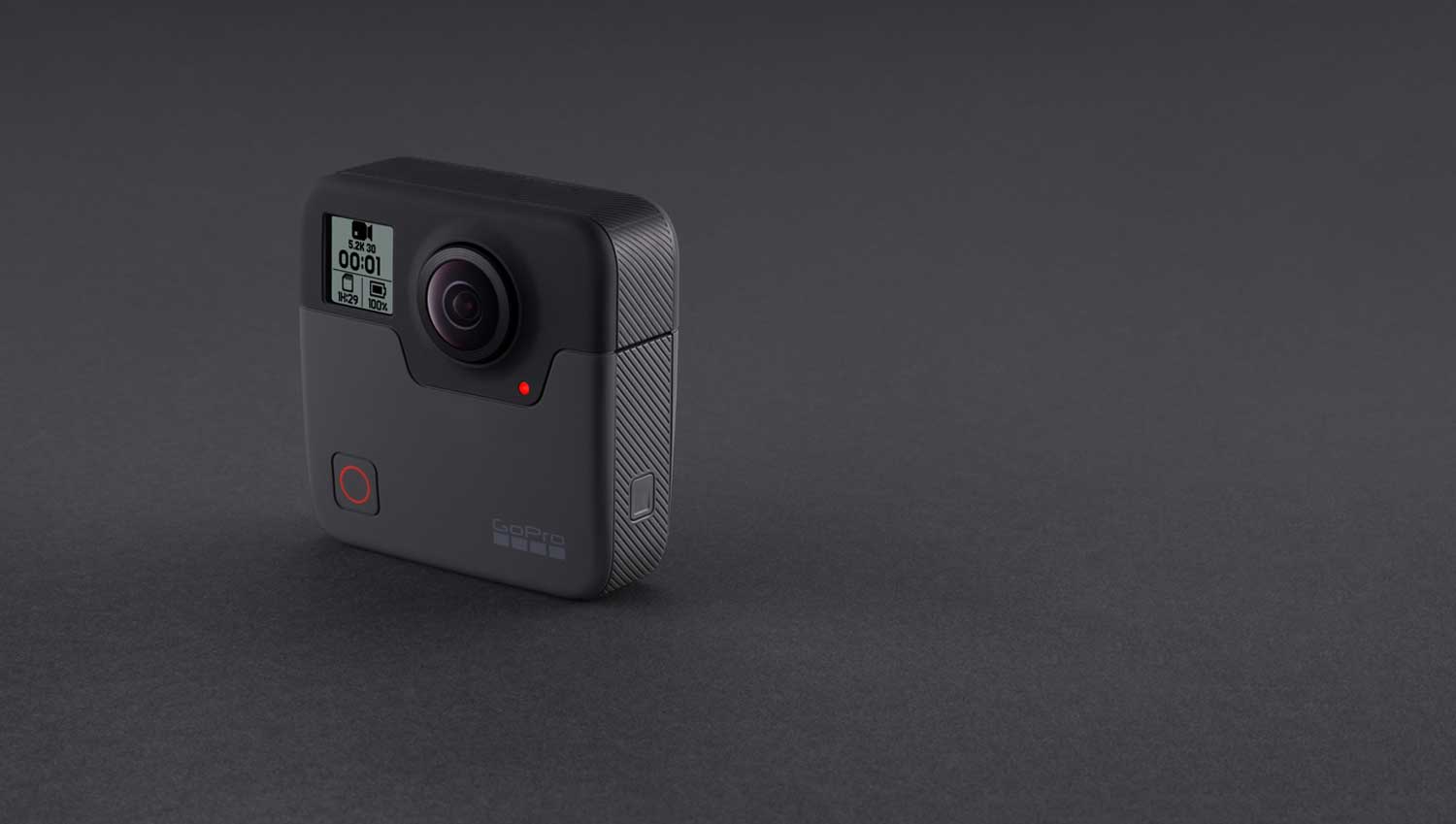 Source: gopro.com
• 5.2K video resolution and 18-megapixel video capture
• Two 180° degree lenses configuration
• MicroSD Storage (expandable to your needs)
• The battery is good for about 80minutes recording time
The GoPro Fusion is by any means one of the better 360-degree-cameras with stunning video footage of up to 5.2K resolution with 60fps and 3K resolution with 30fps. Additionally, the GoPro Fusion comes with built-in video stabilization which helps a lot since there can't be too much stabilization in the post-production of 360° video footage.
Typically for GoPros consumer cameras, the camera is waterproof. At least up to 5 meters (around 16 feet). Although this seems to be more of a protection feature instead of a function for stunning underwater 360-degree footage because many people report of poor quality underwater shots.
As we are used to from GoPro the Fusion can be controlled from the GoPro App from your smartphone which is pretty convenient. Additionally, the GoPro Fusion is voice control enabled which allows for hands-free recording in inconvenient situations which are a nice bonus feature.
Overall, the GoPro Fusion is a great 360° camera but the rather high price point leaves an "unfinished" aftertaste. Things that are typical for GoPro – like nice underwater shots – were definitely a disappointment but you should still consider the Fusion for your purposes since it undoubtedly has its strengths.




Source: kodakpixpro.com
• 4K video resolution and 12-megapixel image capture
• Single 360° spherical lens configuration, 235° viewpoint
• MicroSD Storage (expandable to your needs)
• Battery life just short of an hour
The Kodak PixPro SP 360 4K definitely has its pros and cons. On the one hand, the camera produces excellent 4K image quality with amazing colors and even on large displays, the footage is still crisp. Even in low light situations, the videos are overall still of good quality. Although there is some noise, the quality is still much better than with other cameras.
One major drawback of the PixPro SP360 4K is that you need two cameras to create full 360° around views and an additional remote control to control both cameras simultaneously. This doesn't only seem inconvenient. It is. Although they are easily stuck together with the supplied equipment which makes shooting the footage very convenient, the stitching has to be done separately on a PC software provided by Kodak. You now have to manage two separate memory cards. It helps if you have two card readers here as well but this is optional. The main point of criticism here is that the stitching from here isn't perfect straight-away. You have to adjust individual settings like tilt, roll or pan every time to get things in order.


• Eight full HD lenses to create 4K resolution stereoscopic videos.
• Captures full 360×180 sphere twice, for the right and the left eye.
• Spacial Audio recording
• MicroSD Storage (expandable to your needs)
• 2 hours battery life
A more professional solution when it comes to 360-degree cameras comes from Vuze. With eight full HD lenses, this state of the art camera is compact & lightweight and easy to use. The Vuze VR+ comes with an award-winning design
As this is the first stereoscopic camera in our guide feel free to check out our guide on Mono vs. Stereo 360° video for VR to fully understand the difference. This is also the significant difference between the other 360° cameras we looked at before. Without a major price difference to other cameras here the Vuze promises a full stereoscopic 3D-effect video. And with their eight full HD lenses, which slightly overlap to create the feeling of depth in the video, this seems to succeed and is definitely worth the additional dollars.
Unfortunately, the camera can't process the 360° videos directly so you need a PC to do that for you. The workflow for this is well documented and the supplied software is straightforward to use. That doesn't change the fact that the stitching is not perfect. With objects that are too close to the camera or move to fast around the camera, there are obvious picture errors. According to the producer objects that are closer than 150cm to the camera should not be filmed because of these errors which unfortunately limits the possible motives.
This also means the company is aware of these flaws. Since this is more of a software and not a hardware problem, consumers can hope for software updates that will fix these weaknesses. However, before that happened, content producers should think about these drawbacks before pressing the Record-Button to avoid any picture errors in the first place. Overall, if handled correctly the Vuze VR Camera has a fantastic stereoscopic video output for its price and is without a doubt worth the additional dollars if you are aiming for more professional production.


Closing Thoughts
At the end of the day, finding the best 360° camera for your specific needs should be a lot easier now that you have all of the inside information we shared above.
As long as you focus on the special standout features we touched on in the beginning of this guide, and look into any of the top choices we broke down in depth above, you should have no difficulty whatsoever getting your hands on a top-quality 360° camera without having to break your bank account along the way.