Looking To Buy A 360° Camera? Read this!
If you're ready to try your hand at creating your own VR content, this guide will help you to choose the right 360-degree camera so that you can get started.
The Power Of VR
The 360° camera is rapidly emerging as the top device for content creators and filmmakers everywhere. As virtual reality is hitting the headlines, there is an increased demand for VR games and hardware, and more people are starting to upgrade their equipment so that they can access and create 360° content for VR headsets.
The 360° VR camera gives you the means to present information in an engaging and interactive way, and harnessing this potential is very appealing.
The Terms You Need To Know
The very first step in filming your own 360° content is to invest in the right camera.
When choosing a VR 360 camera, you'll need to know some of the technical terms. This quick glossary will get you up to date with all of the latest buzzwords so that you can have the knowledge that you need to choose the right equipment for you.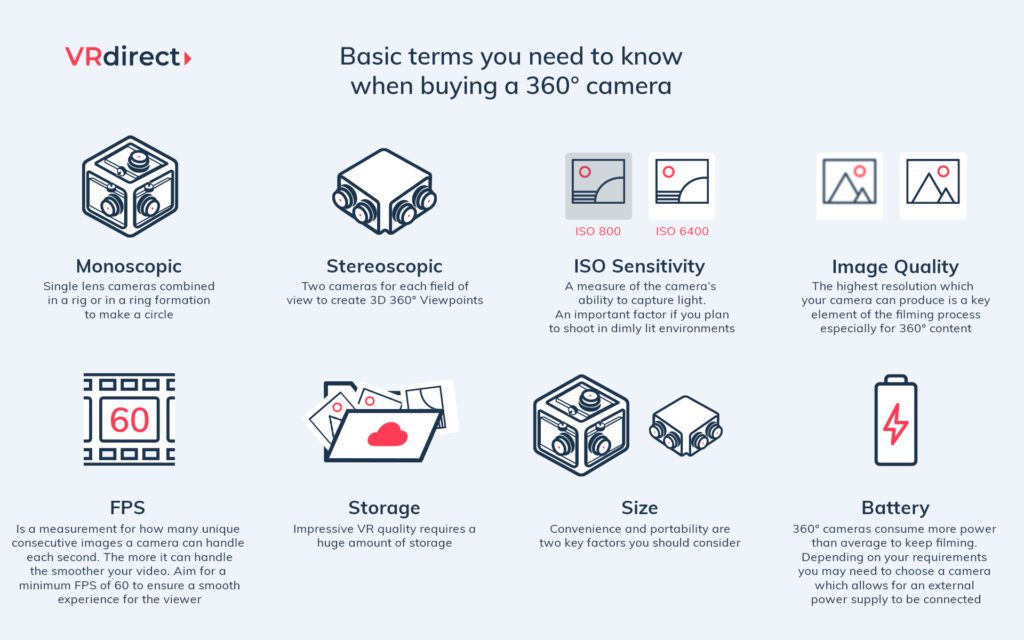 Monoscopic

– a monoscopic camera set up involves using a multitude of single lens cameras which are attached with a ring to make a circle. This is usually requires a minimum of 6 cameras covering 6 fields of view for a complete 360-degree experience for the viewer.

Stereoscopic

– a stereoscopic set up is filmed using 2 cameras for each field of view. This creates a three-dimension 360-degree viewpoint for the viewer.

ISO

the shutter time is an important consideration, and so is the ISO range as this will let you know if it is suited to your filming needs. The ISO measurement tells you how sensitive the image sensor is. A lower ISO number will show that the camera is less sensitive to the light and therefore the grain will be finer. A higher ISO setting is usually used in a darker environment to obtain a more rapid shutter speed.

Image quality

– The highest resolution which your camera can produce is a key element of the filming process especially for 360° content. The quality of the image is determined by how many pixels are assigned in its frame. A high-resolution frame usually results in a higher quality video. Usually, a 360-degree VR video will be half of the resolution of a standard 2D video camera thus making a 4k camera "2k" in 360°.

FPS

– FPS, or frames per second, is an important factor when determining the size and quality of your 360-degree videos. At least 30 FPS (frames per second) are necessary to guarantee that the camera can capture video at a rate similar to a standard film camera.

Storage

– as you might imagine, impressive VR quality requires a huge amount of storage. While some 360° cameras come with an internal hard drive, others will come with a micro SD or expandable SD slot. We suggest a minimum size of 32GB

Size

– convenience and portability are two key factors you should consider. Depending on how you intend to film, a heavy and large camera might not suit your purposes, especially if you need to carry it around. Weighing up the cost benefits of choosing a larger camera because it has a higher image quality versus the convenient portability of a smaller camera with a lower image quality is important.

Battery

– all 360° cameras will need a lot of battery life, and skimping on efficient batteries is definitely false economy. Spending a little more could be the difference between having to stop shooting early in order to recharge the batteries and having an additional hour of shooting time.
Considering The Pros And Cons Of VR Cameras
VR cameras are packed with features, and considering which ones you need and which you won't require is a large part of finding the right one for you. Paying extra for a camera that boasts a lot of features that you don't really need is pointless when you could get the filming experience that meets your requirements for a cheaper price. Here are some of the things to consider:
Waterproofing/shockproofing/freezeproofing/splashproofing/dustproofing – will you be filming in any kind of environment that requires this?

Replaceable battery – if you can switch out the battery to continue filming that means you can spend longer between recharges

LCD display – is it easy to read and understand?

Memory storage – is there a removable SD slot allowing you to use multiple memory cards?

Size and portability – do you need a lightweight camera to carry around?

360 video and photography – are you looking for the ability to take still images too?

User friendliness – if you're new to using a 360° camera, do you need a simple, easy to use model or would you prefer to future-proof and go for something with added functionality?

Real time previewing – do you want the function to see live previews of your work or are you happy to wait until you get back to your desktop?

Test Before You Buy
We highly recommend testing your potential camera's footage in VR before you purchase it. A great way to do this would be to download test footage from the manufacturers website and upload it straight into the VRdirect Studio and create a mini experience. This way you get to see exactly how it will look.
We also recommend our 360° camera shopping guide if you need more assistance.
What is your favorite device for 360° photography? Let us know in the comments section!