The Vision Pro has long been an open secret. But on June 5th, Tim Cook finally let the cat out of the bag at this year's WWDC, unveiling the company's first VR/AR headset after more than seven years of development.
The Vision Pro can switch smoothly between virtual reality and augmented reality. Apple calls this spatial computing and refers to the headset as a spatial computer.
What you can do with Apple Vision Pro
Apple is marketing Vision Pro for both professional and personal use. Users simply place and open applications in their physical environment. They can also combine physical and virtual displays to create a customized work environment for maximum efficiency.
Spatial Facetime conversations are also possible with the Vision Pro. Participants appear on life-size video tiles in the room via iPhone or Mac. Vision Pro users, on the other hand, are displayed as animated 3D avatars – the necessary realism is provided by a facial scan performed with the headset itself. Facetime also supports app sharing and document collaboration on Vision Pro.
Apple's headset features a 3D camera system that allows users to capture 3D photos and videos. Spatial images can then be viewed directly in Vision Pro.
Vision Pro can also be used to play movies and videos on a virtual theater screen with a diagonal of up to 30 meters. The Vision Pro is not designed for VR gaming, but classic PC games can be played on the virtual screen.
Appearance, display technology, and processing power
Apple's lightweight and compact VR/AR headset looks similar to slim ski glasses. The front is made of three-dimensional molded laminated glass with an aluminum frame. The face mask and headband are interchangeable.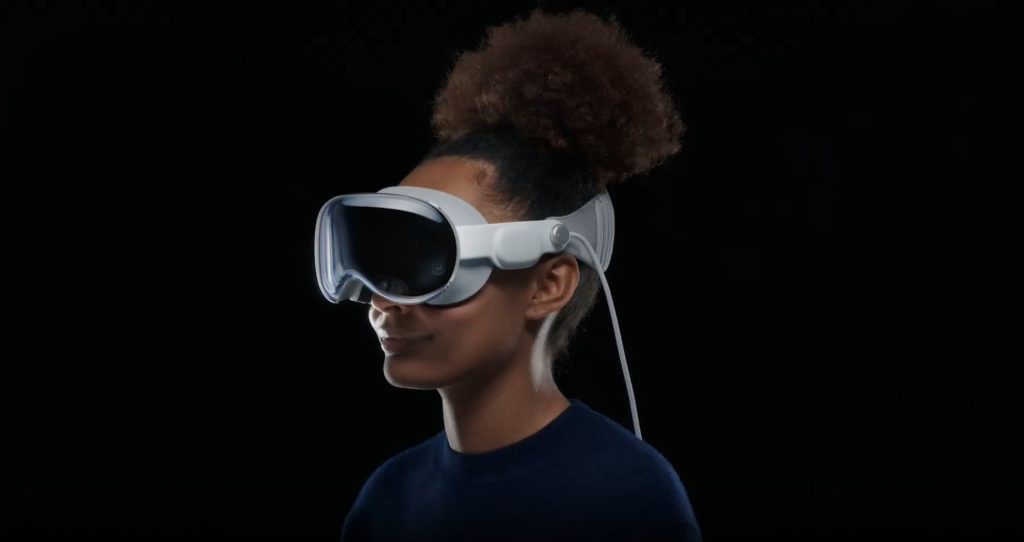 Apple leaves no room to wear glasses under the Vision Pro. However, special optical inserts developed by ZEISS and Apple will provide seamless vision correction.
Users will enjoy two micro-OLED displays with 4k+ resolution per eye. Combined with two special lenses, they deliver a sharp and high-contrast image. The Vision Pro also offers HDR and a 90 hertz frame rate.
Computing power is provided by Apple's M2 processor. It is supported by the R1 chip, designed specifically for the Vision Pro, ensuring an almost latency-free passthrough to the physical environment.
Processing power is optimized through foveated rendering. Only the area focussed by the eyes is rendered at full resolution. The area outside the eye's focus remains at a lower resolution. This efficiently saves computing power without compromising image quality.
Apple Vision Pro runs on the newly developed visionOS operating system, which Apple says "features a three-dimensional interface that frees apps from the boundaries of a display so they can appear side by side at any scale."
Vision Pro is a standalone VR headset. It does not require an external player. However, it can be connected wirelessly to a Mac.
Apple Vision Pro: Passthrough and Control
Two cameras provide color video pass-through. A LiDAR sensor and two depth sensors capture the environment in real time. Users can seamlessly adjust the level of immersion in VR/AR by turning a dial on the Vision Pro's frame.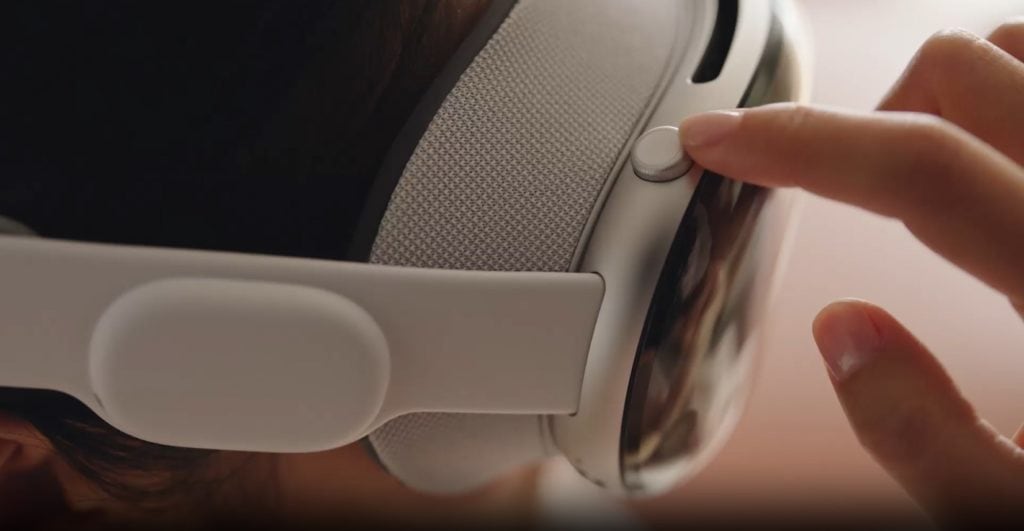 Behind the glass front of the Vision Pro is another display that faces outward. The reverse-passthrough display shows the user's eyes in pass-through mode. This is intended to make interaction with other physically present people more natural.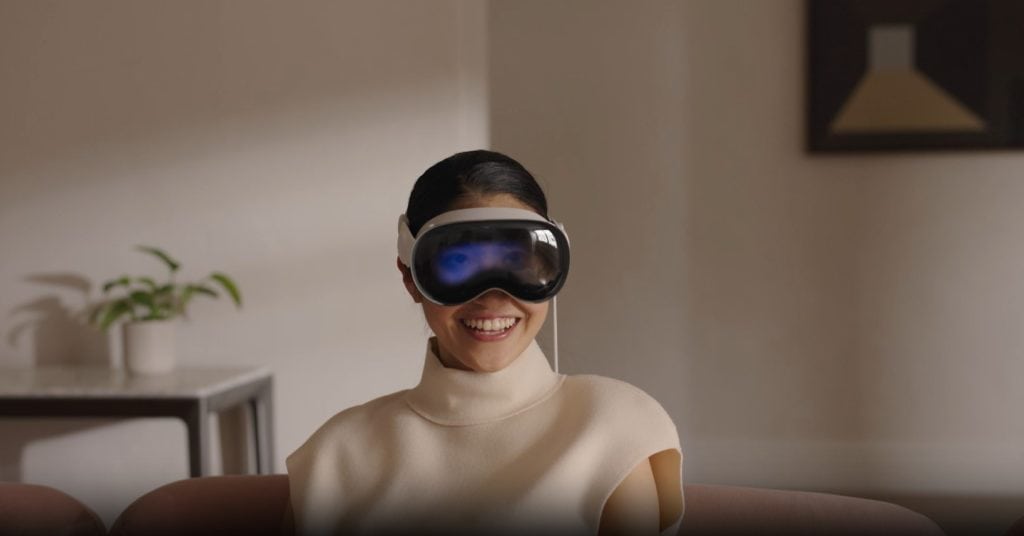 Apple Vision Pro does not require a VR controller. It is controlled entirely by hand and eye tracking.
Spatial audio speakers with audio ray tracing are built into the headband. "Apple Vision Pro creates the feeling that sounds are coming from the environment around the user", Apple says.
The battery is not built into the VR headset but carried externally. It is connected to Vision Pro via a cable and can be worn on the hip or in a pocket. Rechargeable batteries (sold separately) can be used to extend the battery life. It is not yet known if the battery can be swapped during operation.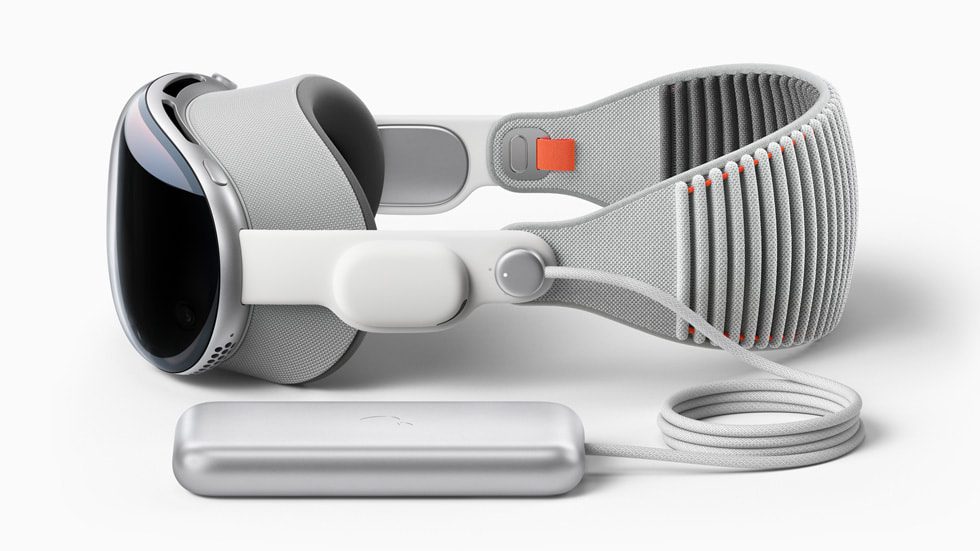 Vision Pro is unlocked using an authentication method called Optic ID, essentially an iris scan. Apple points out: "A user's Optic ID data is fully encrypted, is not accessible to apps, and never leaves their device, meaning it is not stored on Apple servers."
The same is true for the data collected by cameras and sensors, which "is processed at the system level, so individual apps do not need to see a user's surroundings to enable spatial experiences."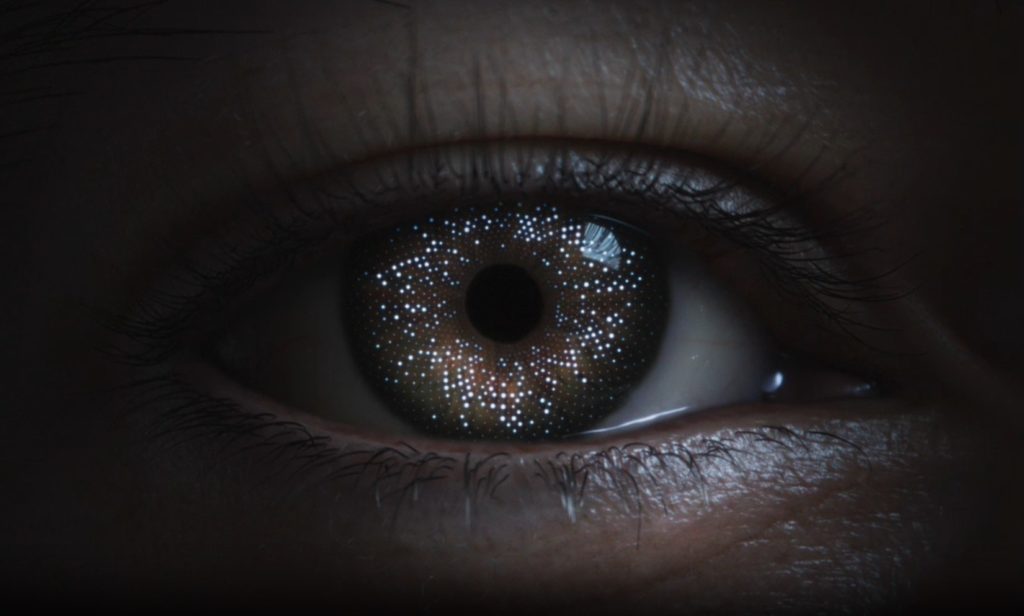 Apple Vision Pro: Pricing and availability
The Vision Pro is expected to be released in the U.S. in early 2024 at a price of $3,499. Current reports indicate that the release may be delayed until May 2024. A release in other countries is planned at a later time.
Apple Vision Pro & VRdirect: Get started now
VRdirect guides companies strategically on their way into the metaverse. Education, training and more: In our role as VR professionals, we have successfully implemented numerous projects together with companies in recent years.
We also advise you on suitable VR glasses, such as the Apple Vision Pro, and their sensible use in the company. Please feel free to arrange a non-binding appointment with us!