VRdirect releases studio application for companies to easily create their own virtual reality content
Munich, March 09, 2020: The Munich start-up VRdirect presents "VRdirect Studio", a new application that allows companies to design their own virtual reality content and publish it on all common platforms without any programming effort. All a user has to do is upload a 360° photo or video file into VRdirect Studio and, with just a few clicks, can then enrich it with interactive elements that provide the viewer with additional valuable information. With the new platform, VRdirect underlines its claim to support companies of all sizes and from all industries in building their own virtual reality applications along the entire value chain. Typical use cases range from company training and further education processes to the recruiting and onboarding of employees and application scenarios in sales, customer service or at trade fairs. For a quick start, VRdirect Studio offers all interested users a tutorial to learn the most important functions of the software step by step. Any interested users can sign up to download the application
here
and test it for 30 days free of charge.
Simple creation of own virtual reality applications
With the VRdirect Studio, users can create their own virtual reality content without any expert knowledge. 360° images or videos can be imported into the platform simply by drag & drop. For individual design, users can choose from countless design elements and, for example, add buttons, icons or text boxes, as well as videos and sound files as interaction objects, also using drag & drop. These effects can be placed in such a way that they appear to float in space from the user's perspective. Through this haptic representation, information or training and educational contents can be transported more clearly and are thus learned faster. The integrated storyboard function allows individual scenes to be linked together and switched one after the other. For example, it is possible to create a virtual walk through of an automobile production facility, in which each station is shown in its own 360° image and by pressing arrows in the VR application, one can switch between the individual stations and thus move freely around the factory site. This is useful in onboarding scenarios, for example, when new employees need to get a quick overview of their new surroundings. The use of virtual reality therefore leads to direct savings in onboarding costs.
Publishing of projects on all common platforms
Once developed, virtual reality applications can be viewed via VR glasses, a smartphone or the web browser. Users can also share links to the project via email, Facebook or Linkedin or embed them directly via the VRdirect web player with an embed code on their website. Users always retain full control over their project: links already created can be deactivated at any time. It is also easy to publish and manage several projects simultaneously. Other useful features of the VRdirect Studio are the revised upload function, which monitors the upload of assets and checks for errors, as well as the function to hide the project title when playing the project, which is particularly relevant for the web player.
Intuitive User Interface
In order to make the software easy to use, VRdirect Studio has an easy-to-understand and clean user interface. The browser preview allows the simultaneous preview of several versions of a project, whereby changes can be tracked quickly and easily.
Tutorial and tooltips for quick familiarization
In order to make it as easy as possible to get started using VRdirect Studio, the software offers users a tutorial that enables them to learn the most important functions step by step. In addition, a large number of tool tips are available to help users understand how the individual features work. These tips are intended to enable new users to work with VRdirect Studio within a minimum of time, even without previous knowledge.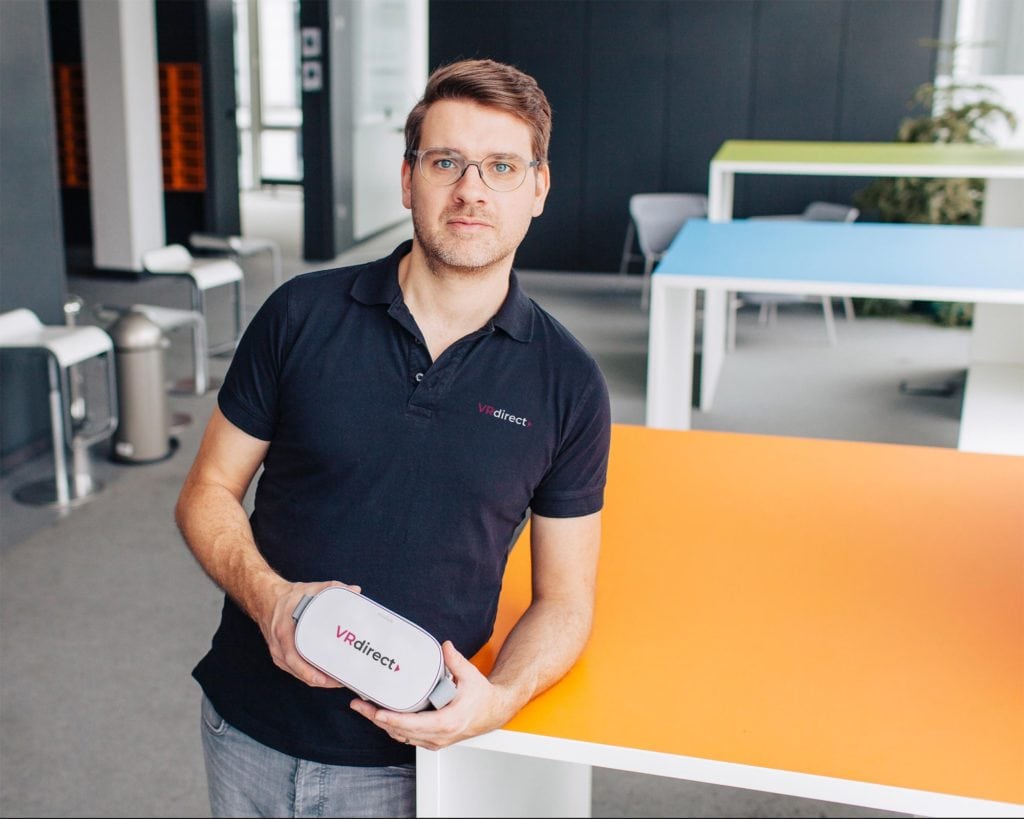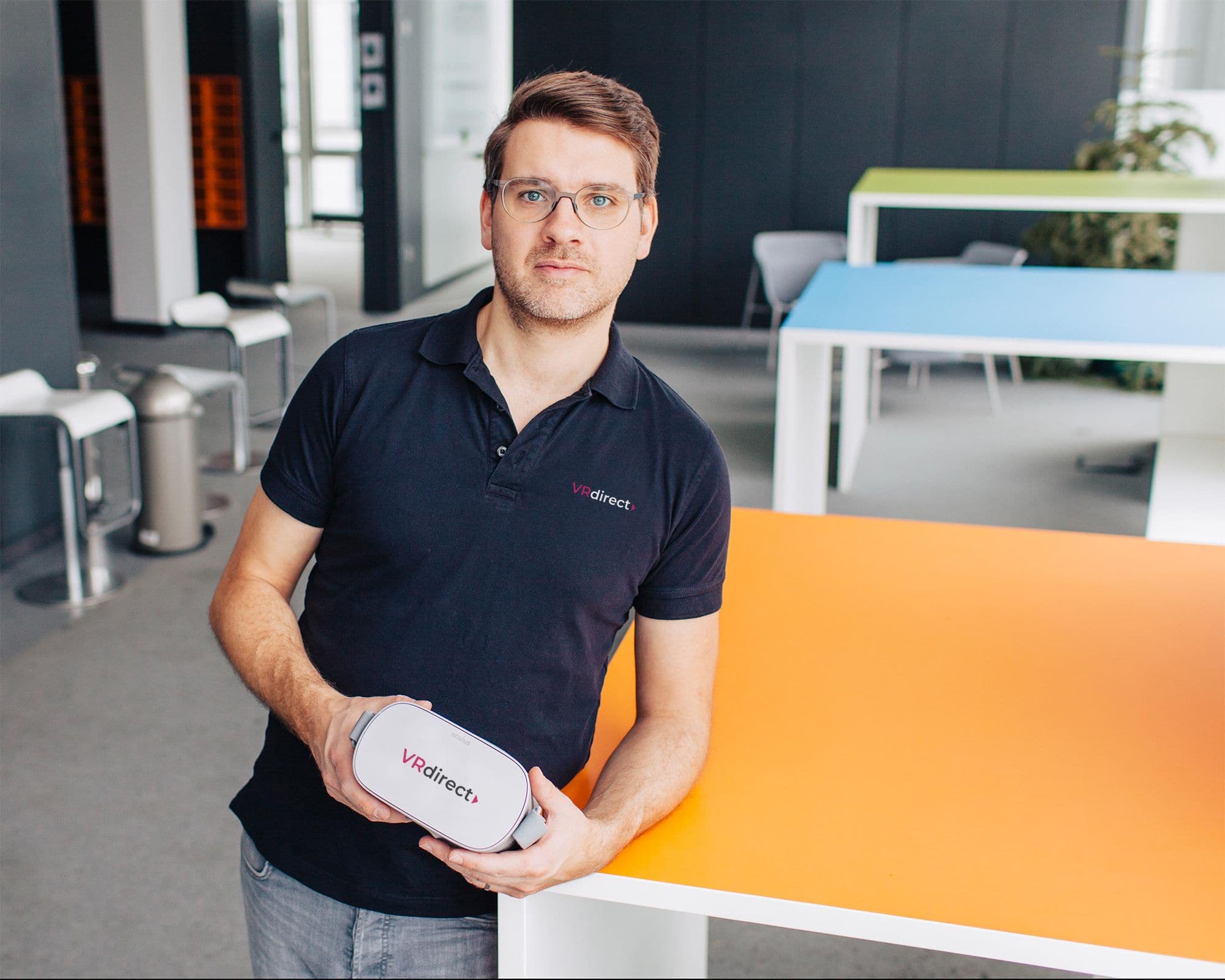 For Dr. Rolf Illenberger, Managing Director & CEO of VRdirect, the development of the new platform is a decisive step on the way to the widespread use of VR in companies:

We see VRdirect Studio as the next milestone towards our goal of enabling every company, regardless of size and industry, to utilize virtual reality productively in everyday life. With the extremely attractive user experience, VR can be used to communicate content needing explanation in a comprehensible, clear and sustainable manner. With this platform, we become the central enabler for companies that want to use the creative potential of virtual reality for themselves without restrictions.

About VRdirect
VRdirect brings virtual reality to the heart of your company. Due to its simple and open structure, the platform can be used without previous knowledge. It therefore offers the simplest solution for creating and publishing virtual reality projects. Typical use cases range from company training and further education processes to the recruiting and onboarding of employees and application scenarios in sales, customer service or at trade fairs. Once created, the content can be accessed on all common end-user devices. In addition to smartphones and browsers, however, they unfold their full potential especially on VR glasses. This brings employees very close to the action and gives them the feeling that they are really interacting with the simulated environment. With VRdirect, even companies that have previously been averse to using innovative virtual reality applications for cost reasons can now use the creative potential of VR for themselves with very few resources.
Get in Touch
VRdirect is the easiest solution to create and publish Virtual Reality projects.
Start now
or schedule your
personal demo
with one of our team members.