Munich, April 01, 2020: In response to the current corona crisis, the Munich-based start-up VRdirect is offering small and medium-sized companies the opportunity to use its software for creating their own virtual reality content completely free of charge for six months. The offer is valid until 30 September for companies and is aimed primarily at sectors in which the opportunity to present products on their own sales floors or at trade fairs and events is lacking because of current security regulations. Virtual Reality represents a great opportunity to present one's own products or services in a visually appealing way and to integrate possibilities for direct purchase within a self-designed application. In addition, VRdirect offers companies of all sizes support in the implementation of virtual reality projects by providing the necessary hardware (e.g. 360° cameras) and consultation regarding the development of a virtual reality strategy.
Interested parties can find the registration link and further information on the #stayathome license at https://www.vrdirect.com/lp/corona/stay-at-home.
VRdirect Studio is an application that allows companies to design their own virtual reality content and publish it on all common platforms without any programming effort. Companies can use 360° images or videos to create VR tours, virtual showrooms and virtual product demonstrations and thus stay in touch with their customers even during the current restrictions due to the ongoing corona pandemic.
For example, it is possible to create a virtual "walk" through real existing sales areas, where each station is shown in a separate 360° image and one can switch between stations by pressing arrows in the VR application. The integration of various call-to-action buttons then allows the customer to interact directly with the environments and storefronts.
In order to help companies bridge the corona crisis as well as possible, VRdirect also provides support for questions and problems regarding the production of 360° content and VR projects. To make the purchase of the necessary equipment more cost-effective, companies also receive a 15% discount on the purchase of the 360° camera ONE X from the manufacturer Insta360.
The #stayathome license is intended to make it easier for companies to develop their own virtual reality scenarios with VRdirect Studio. With the license, up to twenty-five 360° images and a 360° video can be combined in a single VR application.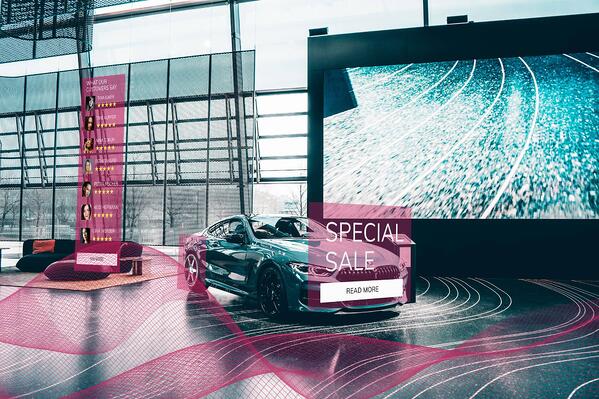 Publishing projects on all common platforms
Companies can then share their applications indefinitely and make them available to their customers via VR glasses, a smartphone or a web browser. The VRdirect web player can also be integrated into various applications such as websites or ticketing, shop and ordering systems. Users always retain full control over their project: links already created can be deactivated at any time. It is also easy to publish and manage several projects simultaneously.
Dr. Rolf Illenberger, Managing Director & CEO of VRdirect emphasizes: "In the current situation, the usual distribution channels are breaking away in many industries. With the #stayathome license, we provide companies with the necessary tools to stay in touch with their customers and to present their products and services effectively."
The #stayathome license and further information can be found at https://lp.vrdirect.com/corona/stay-at-home.
About VRdirect
VRdirect brings virtual reality to the heart of your company. Due to its simple and open structure, the platform can be used without previous knowledge. It therefore offers the simplest solution for creating and publishing virtual reality projects. Typical use cases range from company training and further education processes to the recruiting and onboarding of employees and application scenarios in sales, customer service or at trade fairs. Once created, the content can be accessed on all common end-user devices. In addition to smartphones and browsers, however, they unfold their full potential especially on VR glasses. This brings employees very close to the action and gives them the feeling that they are really interacting with the simulated environment. With VRdirect, even companies that have previously been averse to using innovative virtual reality applications for cost reasons can now use the creative potential of VR for themselves with very few resources. Further information is available at
dev.www.vrdirect.com
Get in Touch
VRdirect is the easiest solution to create and publish Virtual Reality projects.
Start now
or schedule your
personal demo
with one of our team members.