Virtual & close to the customer: With VR, Creditplus unites digital & real
How does a bank maintain personal contact with customers and partners in the digital transformation? With virtual reality, as the Creditplus case impressively shows.
100% digital - and still close to customers and partners!
Trust is the most important currency for insurance companies, financial service providers and banks. Only when customers and business partners feel they are being well advised will they invest their money or take out a loan. An essential factor in building trust is customer proximity.
But how does a bank build proximity to customers and partners when banking is becoming increasingly digital and personal contact is becoming rarer? Creditplus, a specialist in consumer finance, was looking for a way to overcome the apparent contradiction between personal proximity and complete digitization.
To do so, Creditplus needed an experienced technology partner that could keep up with its own pace of innovation. The bank tested the market as part of a startup competition. VRdirect convinced with a Virtual Reality concept for a customer-oriented, interactive and personal company presentation.
How does Virtual Reality help banks and financial service providers?
In VR, people can experience places and people directly, regardless of their own position, without physically being there. Whether with VR headsets or via 360-degree video on a website and video platforms: The self-selected viewing angle, the free interaction with the environment and the personal presentation create proximity.
If you encounter a digital person with VR glasses, they appear life-size and thus much more realistic than in conventional videos. The dimensions of places also match reality. An experience that stays in the memory.
Creditplus uses this on-site effect for customer loyalty: Visitors inside get to know the bank in a virtual tour. In the digital showroom, they are welcomed personally before the bank's management presents the services, products and philosophy of Creditplus to private customers and business partners.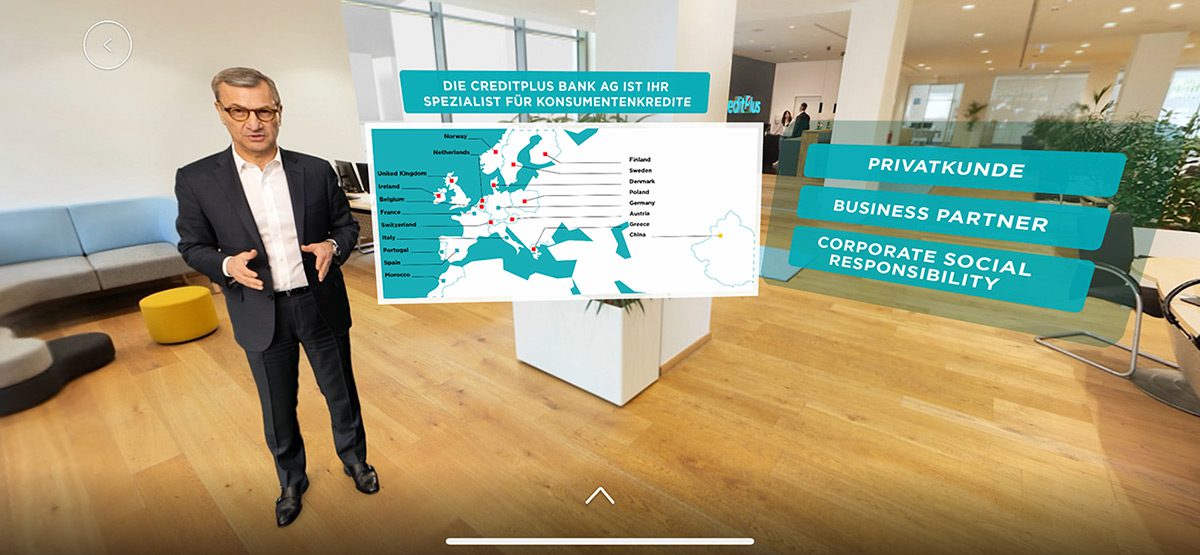 VR at Creditplus: These are the advantages
"Today, it is completely normal in all areas to obtain information in advance on the Internet before making decisions," …
says Jana Rau, Innovation Manager at Creditplus, explaining the concept behind the VR presentation.
"With our virtual company presentation, we are offering a whole new dimension of advance information. And thanks to special highlights such as our wish portal, customers can familiarize themselves with Creditplus products on a very individual basis."
Of course, Virtual Reality is no substitute for direct advice: after getting to know each other virtually, personal advice follows on site. To this end, Creditplus is even further expanding its branch network, thus combining digital advantages with on-site services.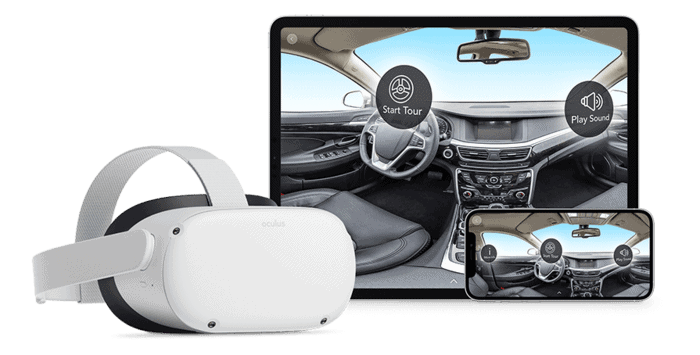 Schedule a free product demo and learn how to easily create interactive 360° VR experiences.
Nestlé began integrating Virtual Reality into the company early on, for instance to improve employee safety through flexible learning. A current example is the Girona Pedestrian Safety Training.
At numerous airports, Fraport AG is responsible for a wide range of comprehensive service areas that go far beyond the smooth running of aviation activities. For example, Fraport operates the Visitor Center at Frankfurt Airport, an interactive world of experience covering all aspects of the airport.
Together with BYK, VRdirect developed the project "Paint Lab Technician @BYK". The application lets users experience the tasks and everyday life of a paint lab technician up close in an immersive and interactive 360° environment, bringing them closer to this often rather unknown profession in an exciting way.