Video content producers and freelancers, as well as production companies and marketing agencies, are popping up all over the place. It has become increasingly difficult – even for established companies and agencies – to stand out with their portfolio and references. Additionally, clients often demand further services alongside video production or traditional marketing services. Many companies try to keep up with these new challenges and turn their heads towards providing new services. Influencer Marketing, Chatbot Development, Big Data, Predictive Analytics, just to name a few.
Is VR expensive?
One service that is more and more requested by many companies – and that can definitely make your production agency stand out – are interactive VR experiences. But many agencies are afraid to take a step in this direction: There still is the misconception that the creation of VR experiences is complicated and unbearably expensive. After all, you have to design a realistic 3D-environment or spend thousands of dollars to produce a 360° video. Afterward, you have to add interactive elements with advanced coding, and then use even more coding to develop an app with your VR experience. But this is just not true anymore.
Professional 360° content production equipment – like stereoscopic video cameras or dedicated monopods – has become more affordable as well. We dedicated multiple blog posts on how to get started with 360° video production. You should really check them out.
And when it comes to the required coding skills: With the introduction of VRdirect, there aren't any programming skills required to create an interactive VR experience anymore. VRdirect is a VR/360° platform to create and distribute interactive experiences, branded white label and library apps. It is the most efficient, most flexible and most professional VR authoring tool on the market. With VRdirect, professional VR experiences can be built, published worldwide and played on all relevant VR platforms and VR-compatible smartphones within minutes and without expert knowledge.


How does VRdirect work?
We have written an in-depth tutorial on how to use our studio so you can easily get started. But to give you a quick overview: The VRdirect Studio offers an easy workflow for agencies creating and managing interactive 360° experiences for their clients. Just import 360° pictures and videos to the VRdirect editor. From there you can create seamless VR experiences out of your content and add interactivity. Afterward, upload your experiences to the VRdirect app or manage your own VR App or Library. You can even output your experience as WebVR and implement it on your website.
After publishing your App, the VRdirect Platform offers another significant benefit: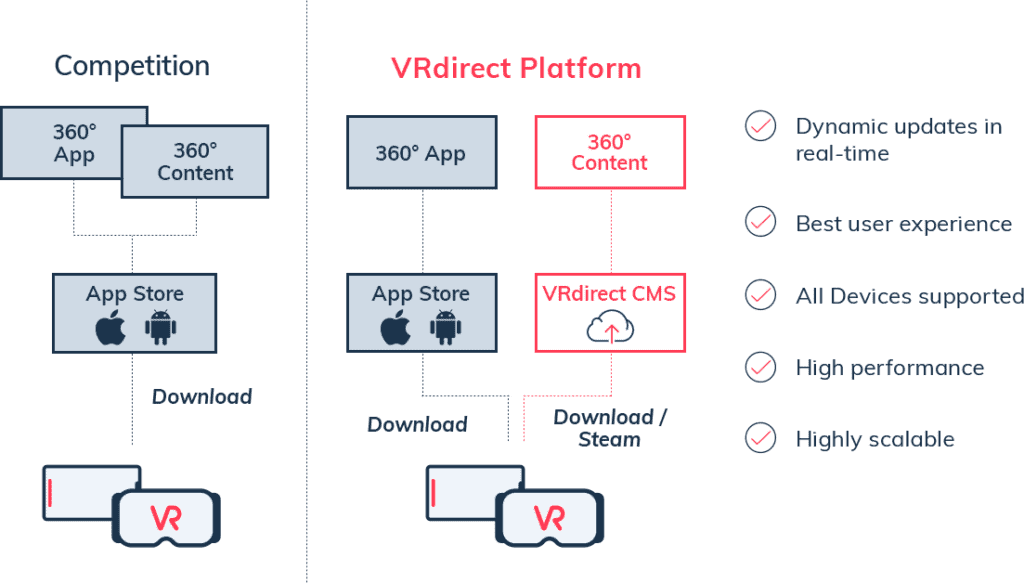 VRdirect works with a Content Management System (CMS) architecture, which means the app-container and the content are two separate parts. You can update your content dynamically without the need for your users to download and update for the app. These dynamic updates happen in real-time. The content is, as a result of this, streamed from the VRdirect Cloud in the best possible quality to ensure the best user experience. This workflow supports all devices, is highly performant and highly scalable and allows for enterprise use-cases like library apps.


So how exactly can agencies and producers benefit from using VRdirect?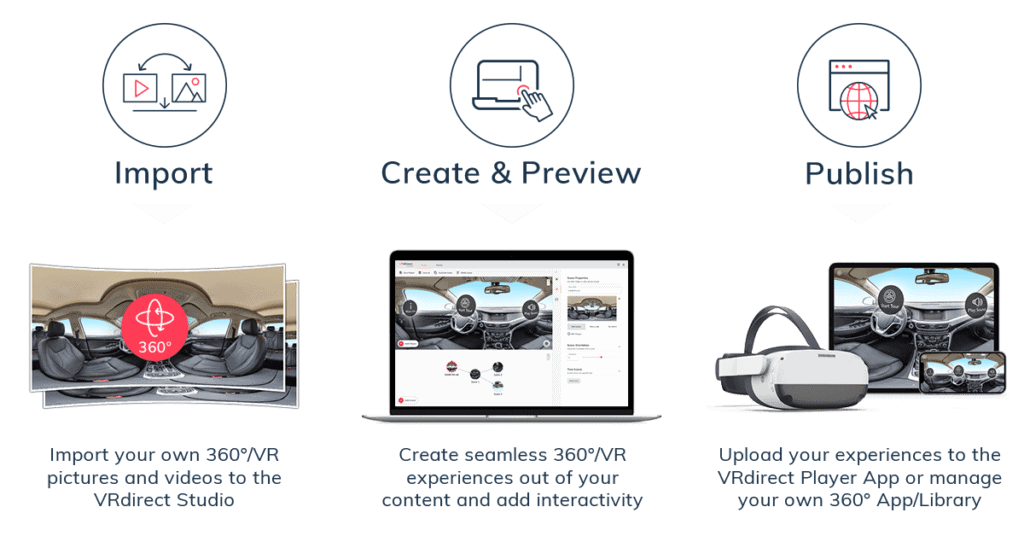 Empower your own team to create VR experiences
As mentioned before, with VRdirect anyone can create interactive VR experiences and apps, without any expert knowledge. That means that without numerous hours of advanced and continued education of your current employees, you can easily add VR experiences to your portfolio. In fact, most of the time you don't even have to hire new staff. You can efficiently empower your own and existing team to get started with VRdirect and use all of our free and always available resources to get an overview of all the possibilities.
Fast prototyping and iterating of VR
This also allows for really fast prototyping and iterating of VR that just isn't possible with traditional VR workflows. If you have to code a whole app before publishing it, the only way to prototype would be by using simple tools that don't offer real app or VR experiences at all. You would have to stick to mockups or click-dummies that – at the end of the day – most often don't convince your clients or the users.
With VRdirect you just need some 360° content and you can get started. You can add real interactivity within minutes. We even guarantee that your app will be published in the app store within five days. And due to the CMS-architecture, you can still iterate and update your content anytime and in real-time. Additionally, due to this CMS approach, we can ensure that your VR app will be published in the App Store in one week, which most of the time is just not possible for new apps.
Keep control over content and campaigns
As described before this also enables you to keep control over your content and your campaigns all the time. If you have to update your content, you can't rely on your users to update their apps everytime you want them to. In many use cases – for example, company training – this can lead to significant problems. Also, if your content is integrated into your VR-app and not streamed from the cloud, use-cases like Library Apps wouldn't be possible at all because of the sheer file sizes of the experiences.
Easily create pilots to pitch to your clients
Often times you will have to pitch your idea to your clients before they will provide you with the necessary budget. That's why the VRdirect Platform gives you the possibility to create pilot experiences to pitch to your clients for free. The VRdirect Studio with all integrated functions as well as the VRdirect App to preview your experience on a local device are 100% for free and will not require any credit card or payment method to download. To fully understand this workflow please look at our in-depth guide or our Youtube Channel.
So, in a nutshell, VRdirect adds a new service to your agency portfolio that can easily be implemented in your existing production workflows and with your current employees. It gives you the possibility to create VR experiences for any use case, keep control over your content at all times and create pilots to pitch to your client 100% for free. Even if your agency is already active in VR, you can drastically increase your efficiency and margin on their VR business. If your agency is not yet active, you can build an entirely new business based on VRdirect and offer VR to all of your clients.
So there is only one question remaining:
How to get started?
As a video production company or agency, you can become an official VRdirect partner. This has some additional advantages for you and your company and will make it easy for you to set everything in motion:
As an official partner, you will get discounts on our VRdirect license packages that allows you to increase your profit margin with your clients (discounts are not publicly stated). You will receive a partner listing including a backlink with other agencies and companies on the VRdirect partner page, and we will recommend you to clients that are looking for an end-to-end service including the production of VR content.
To help your employees to get comfortable with VRdirect we will provide you with additional workshops, support and showcase material and even hardware for client presentations or the acquisition process.
All you have to do now is to get in touch with us. Drop us an email at contact@vrdirect.com or contact us on one of our social media channels. We will always answer you as soon as we can!
Check out VRdirect.com and get creative today!