Since 2009 the DMEXCO – Digital Marketing Exposition and Conference – established itself as the most important trade fair and conference for digital marketing and advertising. The annual conference attracts 1.000 exhibitors, 570 speakers and 40.000 visitors from 105 countries this year alone, which makes it the right place to be, for everybody working in digital marketing or advertising.
Every year the DMEXCO offers an inspiring range of topics and valuable insight into everything from media to marketing technology, business, and the all the things the future of the industry has to offer. It's the perfect place to discover trends, get inspired and try out innovations first hand. The trade fair aims to be the central meeting place for professionals, that want to turn ideas into action.
This year the DMEXCO will take place on September 12th and 13th 2018 and VRdirect will be a major part of it.


Great Opportunity for exhibitors
We are very proud to announce that – together with DMEXCO – this year we will make the future tangible and perceptible. As part of the World of Experience, VRdirect will power the DMEXCO VR Lounge, which allows exhibitors and non-exhibitors to present their business or product as a virtual reality experience.
The World of Experience was introduced at DMEXCO 2017 and serves as an innovation hub for the marketing-communication and -technology of tomorrow. The World of Experience is located very close to the Congress Stage and definitely is one of the Hot Spots of the exposition.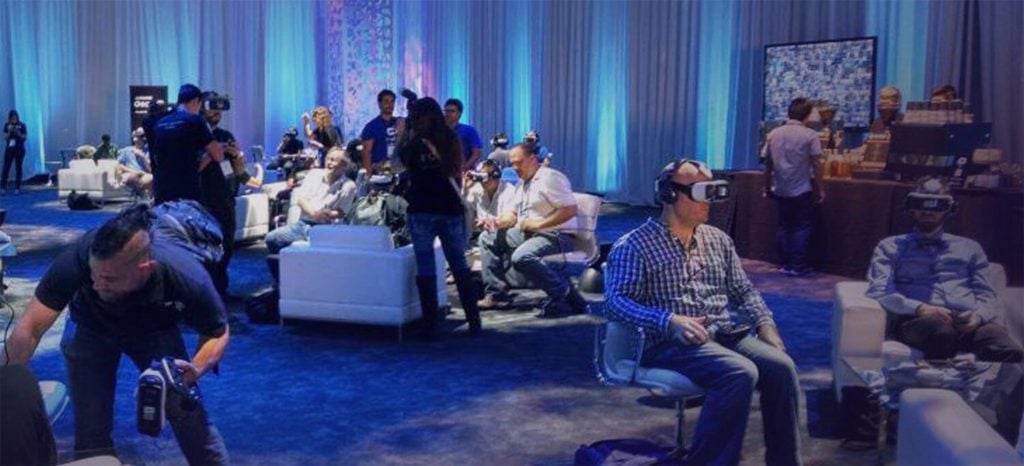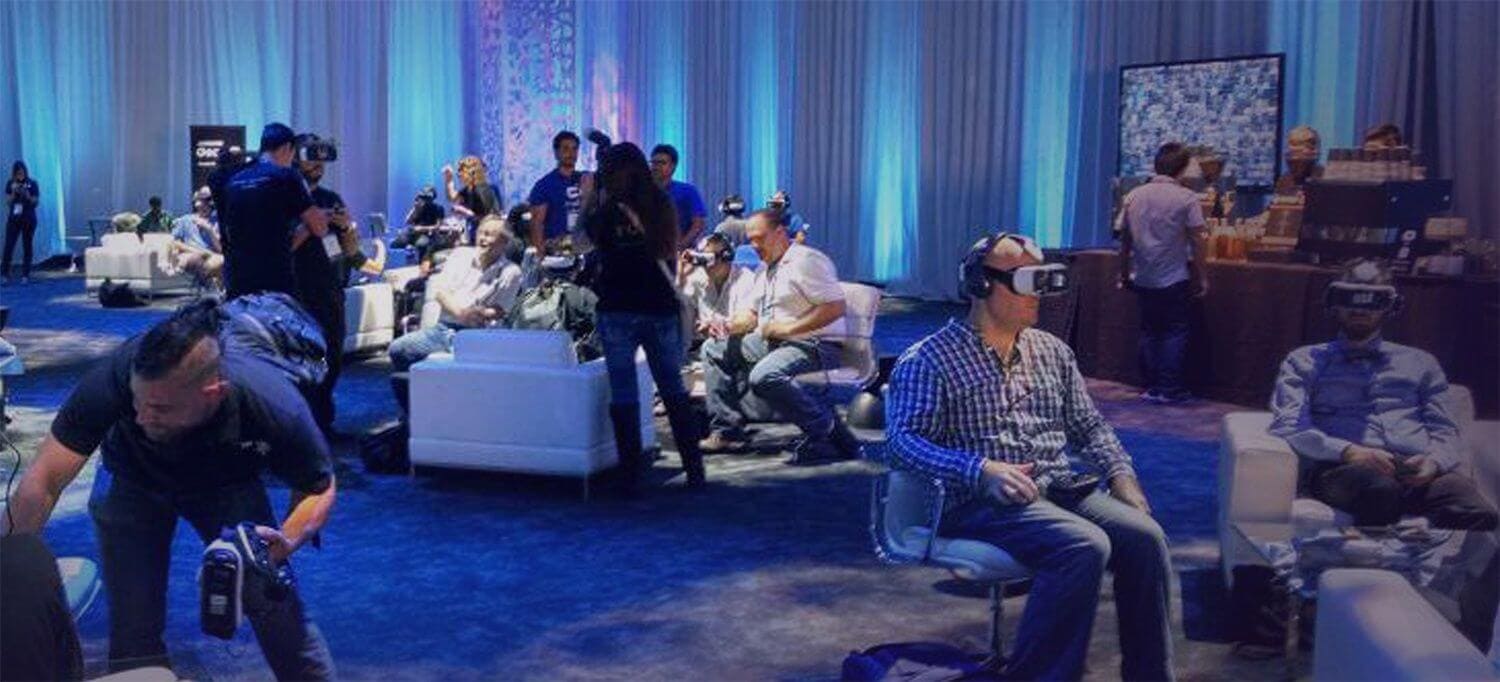 The full DMEXCO 2018 VR Lounge Package (starting at 3.000€) includes:
– Showcase any VR experience in the official DMEXCO VR App
– Get 4m² of space within the DMEXCO VR Lounge including the possibility to bring your own staff
– Table, barstools, and armchair
– Be listed as a DMEXCO exhibitor
– VR Glasses and the necessary Technology will be provided
If you are at DMEXCO or think this sounds interesting, you should definitely take advantage of our state-of-the-art technology and the opportunity to present your business or product in the unique DMEXCO environment as a virtual reality experience.


Create your own experience
The content and design of your experience are entirely up to you. Since the experiences are created using the VRdirect platform, literally everybody can do it. With VRdirect, there aren't any programming skills required to create an interactive VR experience anymore. VRdirect offers a drag-and-drop VR/360° builder to create and distribute interactive experiences. It is the most efficient, most flexible and most professional VR authoring tool on the market. Using our platform, professional VR experiences can be built and published inside the dedicated DMEXCO VR App within minutes and definitely without any expert knowledge. This is especially easy if you already have some 360° photo- or video content that you can use to showcase your business. Some business might already have full VR experiences or apps. This isn't a problem as well. The experiences will have to be adapted for the VRdirect, but we will certainly help you to do so if you contact us at dmexco@VRdirect.com.
If you don't have any content and don't have the opportunity to create some yourself, we can always help you to do so. We can quickly create professional virtual tours and marketing showcases that can be used even after the DMEXCO. For example as a permanent App or as an addition to your website. Feel free to contact us for more details and our pricing on this.


Get inspired
To give you some more inspiration of what you can showcase or what is even possible using VR and VRdirect, we have collected some ideas for you in the following.
First, you should know that 360° tours of your office are not the only way to go. As an agency, for example, you should go the way of presenting a partner or client in form of a marketing-showcase. Especially if you already have realized VR projects for your clients this is the way to go. You could also present one of your product or services in a creative way, by turning your not-so-great power point presentation into fully immersive and interactive 360° experience, for example by visualizing data in 360° and interactively leading your viewers "through" it. You can also sponsor another VR experience.
To see what is possible with VRdirect and to get some further inspiration on what you can create, show the VRdirect Showroom or visit our Examples page.
If you have never touched base with 360° in any way before, it might be useful for you to first get a picture of what 360° video really is. You can use the Youtube and Facebook search to find 360° inspirational video content. For Facebook just add "360" to your search term – if you are looking for 360° skydiving videos for example just search for "Skydiving 360" and you will find multiple 360° videos. On Youtube, the search for 360° content works even better. Input your search term and afterward use the "Filter"-tab of the Youtube search to display 360° videos. You can also apply multiple filters. For example to show for the most watched videos first.
Before you start to create your experience be sure to talk to us! We have a lot of insights on what's possible (and useful) in VR and can certainly help you to come up with the best experience for your audience.


Expand your Business
DMEXCO is the central location for networking, dialog, training and inspiration. Here you will experience digital trends, tap into future business potentials, and meet all the important service providers and partners. There is definitely no better way to do that than with a fully immersive interactive VR experience.
If you are organizing or marketing events and trade shows, have a look at our new solutions page for Virtual Reality at events.