As we know Virtual Reality (VR) is a unique technology. Unlike standard user interfaces, it immerses the user in an experience. And the VR devices make the experience more tangible and life-like. Today, it is possible to interact with the 3D environment and experience an alternate realm, thanks to VR. Currently, VR games and VR content are two industries leading the curve.
However, VR technology is beyond the world of games and entertainment. A range of other industries are leveraging VR solutions. Although it is exciting to see someone grasp items that do not exist in our physical reality, its practical applications touch upon possibilities that no other tech has achieved since the internet. For instance, VR exhibitions play a crucial part in the event management sector. Be it exhibitions, business expos, or concerts, VR is helping create a more memorable and engaging event experience. So let's delve straight into how Virtual Reality is changing the event space, starting with use cases.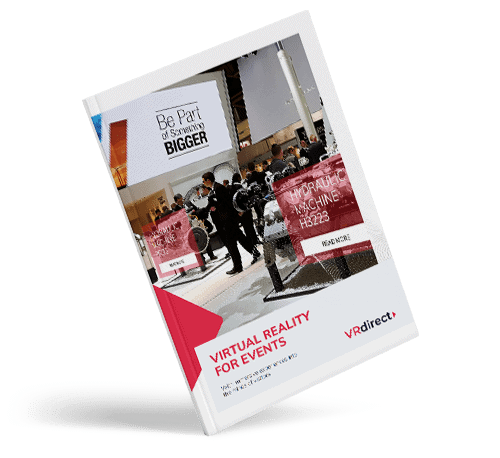 Read our Whitepaper "How to improve the customer experience at events with Virtual Reality."
Common Uses of Virtual Reality in Events
Integrating the VR system into an exhibition display is far more effective in catching the attention than a promotional film or text heavy brochures. An interactive VR-powered exhibition ensures that the users have a good time while retaining more information, enjoying the experience, and testing the products first-hand.
Conducting immersive virtual events
Of course, the foremost advantage of VR technology is in organizing events for businesses. Even though online events have some benefits, immersive VR events are a complete game-changer. The possibility to interact in an alternate reality is something that users love.
The use of VR in Expos facilitates guests with immersive and engaging experiences. Web-based events are criticized for being alienating and anti-social, but this is not the case with virtual events. Instead, VR may help attendees feel more connected and involved while making it possible to communicate in real-time.
For example, the famous Louver museum held a VR experience in Paris for its Leonardo da Vinci blockbuster exhibition. The Event's interactive design, animation, and sound allowed visitors to explore Renaissance paintings. The VR experience became the highlight of the event.
Better communication channel
When it comes to virtual events, networking plays a significant role. According to reports, one of the main reasons individuals attend events is networking. With the introduction of services like VRChat and Facebook's (now Meta) integration with Oculus headsets, VR has an added advantage to make virtual networking more participatory and engaging.
Regular networking sessions have been changed into sequential VR experiences, ranging from speed networking to introductory games. Hence, today, an ever-growing number of event organizers are not shying away from using VR devices to offer virtual networking an additional dimension.
Ever thought of visiting a location without actually traveling there? Well, that is a virtual venue for you. Virtual location tours are time-savvy for event organizers, especially as in-person events are making a comeback and hybrid events are gaining traction.
Moreover, virtual visits are an ideal approach during times as disruptive as the ongoing pandemic where many nations are still struggling with the wave of different COVID-19 variant outbreaks. VR allows businesses to adhere to social distancing protocols and stay safe without taking a hit on their revenue streams.
Take the use case of The Washington Post. The American news company created an immersive walking tour of the street art in Manhattan launched for their online readers. How about you take a virtual art museum tour now? Here is a virtual art museum created using VRdirect's intuitive VR solution.
With more hotels, event businesses, and venues offering 360-degree tours, it appears that VR venue visits will continue long after the crisis has stabilized. Not only is it handy, but a sustainable option that may help reduce the carbon footprint of an event by decreasing travel.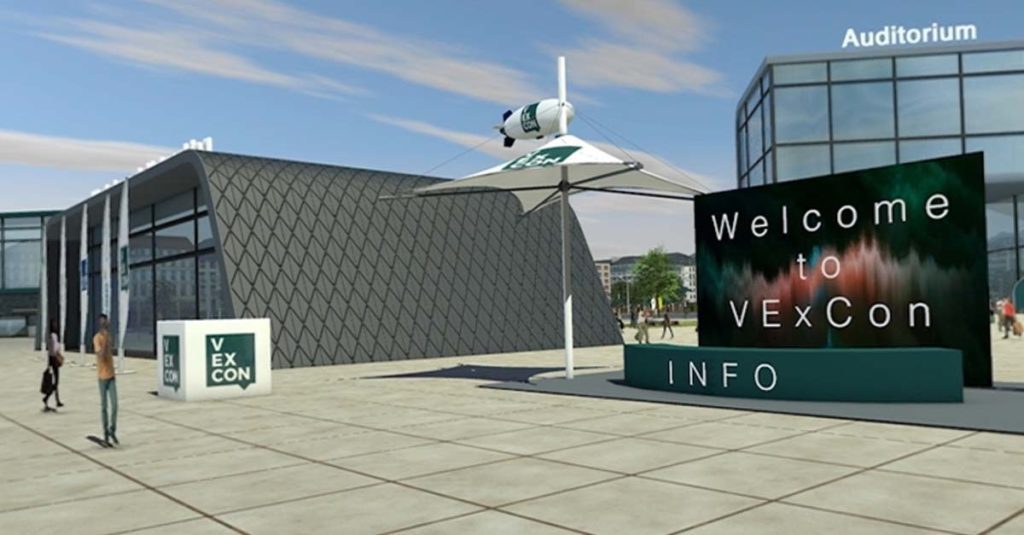 Read our Success Story:
How Xing Events uses Virtual Reality to attract visitors and strengthen customer relations.
Advantages of Virtual Reality for Exhibitions
But let's talk about the elephant in the room, the cost of creating a VR experience. The cost of VR events may vary depending on the level of immersion you want to produce. A fully immersive VR 3D experience tailored to your brand or product may cost more, need expert skills, and need development time. But then you have platforms such as VRdirect which are already making things economical, faster, and a lot easier for event organizers and businesses worldwide to make the most out of their VR event plans with minimal fuzz. Here's a short demo of how VRdirect allows creating VR events.
While Virtual Reality developers are still working on the complete immersion bit, VR events are already making headlines. So whether you are pro-VR or anti, it is bound to integrate into our everyday lives. And the rapidly decreasing cost of VR devices will inevitably lead to more adoption in the coming times. So rather than resisting, it is better to embrace it as early as possible. And the event industry seems to have taken a head start.
But it appears VR event business will require two things for full fruition; support of other technologies such as a complete 5G adoption worldwide and creative minds who can tap into VR's many capabilities to come up with innovative ways to augment event experience.