Traditional is a word that does not sit well with Virtual Reality (VR). Breaking stereotypes and making trends look obsolete, VR is poised to transform everything we have ever known about how we sell, market, or present our ideas. And while every industry sector is pondering over the application of the tech or tweaking it to suit its needs, VR has already converged with marketing to metamorphosize into something called experiential marketing, which is rapidly transforming the trade exhibition experience.
How VR helps steal the limelight
Though trade shows are a lucrative opportunity for a business to present its product, they are highly competitive too. It is easy to get neglected amidst hundreds of other exhibitors vying for the same thing as you.
And this is where VR comes into play. These trade shows offer a perfect stage for VR to flaunt its prowess as an immersive marketing tool. It can make a brand look like a beaming star among rocks.
However, it is essential to understand how Virtual Reality should be used to put on a great show. A well-executed VR-based strategy would account for increased footfall, attract relevant media coverage, evoke the right attention, interest, and emotions. But most importantly, it would make a lasting impact.
But before we talk about how to use VR without breaking a bank, we should look at the many benefits of integrating VR into your marketing strategy for upcoming exhibitions and events.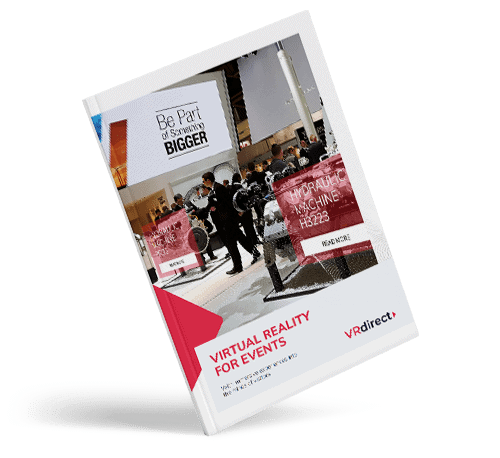 Read our Whitepaper "How to improve the customer experience at events with Virtual Reality".
Benefits of using VR for trade shows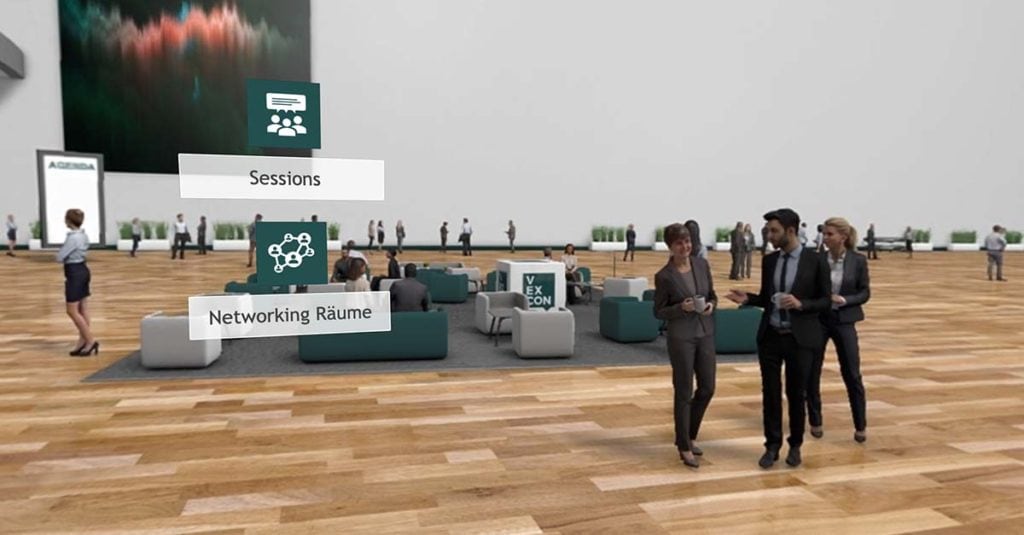 A magic wand for mega manufacturers
Large equipment manufacturers who face the logistical challenge of moving their gigantic products from one place to another for demonstration can now breathe a sigh of relief, thanks to VR trade shows. By creating virtual replicas of the machines and virtual relevant environments, such enterprises can pack their mammoth-sized products into a briefcase and take it to any part of the world.
An interesting use case to cite here would be the innovative approach taken by the American multinational giant General Electric when showcasing their products at one of the largest global fairs devoted to 3D printing.
GE overcame the problem of logistics using VR to demonstrate its bulky product range. They showcased their entire 3D printing range for various industries in a custom-built virtual lobby. They invited guests to virtually test the printing process, examine each model in detail and compare the quality and precision offered by each device. Not only was it a success, but GE was able to compile a comprehensive presentation at a much lower cost.
There are many more real-world examples where VR trade shows have bridged such gaps. Some of these industries include the health sector, tourism industry, aerospace manufacturing, construction industry, etc.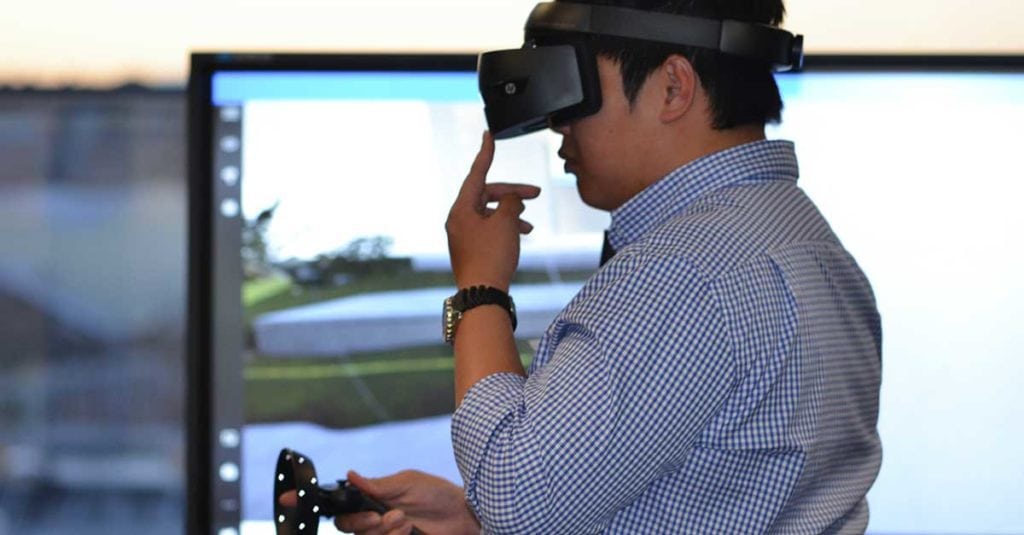 How can you use Virtual Reality for an upcoming trade show?
An exhibition can be an extremely exhausting affair. Especially the preparation bit. Ensuring outsourced vendors are on schedule, readying marketing content all at once can take a toll. And the last thing you want is any delay or issues with the USP of your booth.
With the VRdirect Studio, which makes things swift, easy to adapt, and fully customizable without the need for experts or any previous practical experience with VR.
Virtual Reality is not only here to stay but to take over. And early adopters sit on the vantage point to foresee and grab opportunities before their respective competitors. Combining VR with a product showcase can amplify the whole experience. And using solutions such as the VRdirect platform, rolling out VR-powered solutions is now easy and affordable. The applications are not limited to VR trade shows and expos only but can power up an organization at various levels. While such platforms allow seamless incorporation of VR, there is absolutely no need for infrastructural or organizational change. The possibilities that VR brings are limitless, and all that is required is to make that first move to venture out into uncharted territory.
An enterprise-ready solution, the VRdirect platform allows creating VR-enabled content with a few clicks. You can try a free demo version on the company website and experience it for yourself.